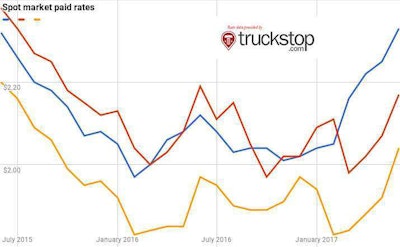 Per-mile rates on the spot market shot upward in all three major truckload segments in June, according to monthly rate data provided to CCJ by Truckstop.com, with flatbed and van rates hitting multi-year highs and reefer rates reaching their highest point in a year.
June was the fourth consecutive month that spot market rates climbed on a monthly basis. The gains were in line with seasonal trends, but could also reflect a tightening of industry capacity due to a stronger freight environment and, potentially, wider adoption of electronic logging devices.
Though many carriers operate in the contract freight market rather than the spot market, the spot market can be a barometer of freight growth and can forecast the potential for contract pricing increases.
Van rates led the month's gains, jumping 12 cents to $2.04 a mile. That's van's strongest monthly average since September 2015. Compared to last June, van rates were up 7 cents a mile: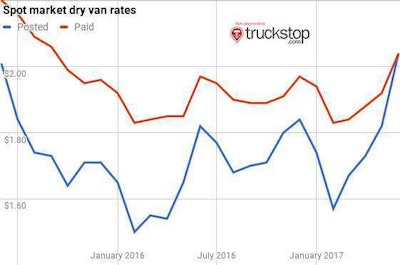 Reefer rates climbed 10 cents to $2.17 a mile — the segment's highest per-mile monthly rate average since June 2016. Reefer rates were down 2 cents compared to last June, however: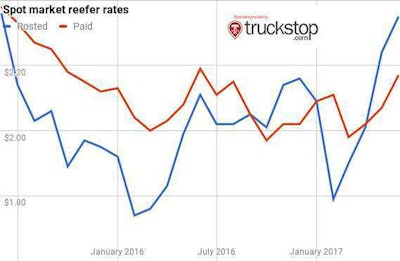 Flatbed rates climbed 8 cents in June from May to $2.33 a mile — flatbed's strongest showing since December 2014. Flatbed rates were up 21 cents compared to last June: