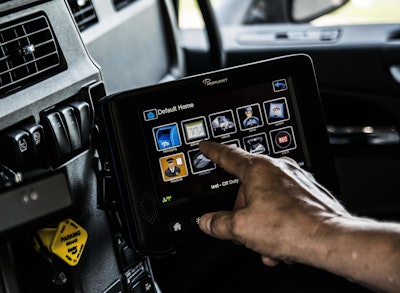 PeopleNet, a Trimble Company providing fleet mobility technology, announced that it has self-certified and registered its eDriver Logs elelctronic logging device solution as compliant with the Federal Motor Carrier Safety Administration's ELD mandate, which goes into effect Dec. 18, 2017, under current law.
PeopleNet's eDriver Logs automate hours of service to the extent possible and give fleets the ability to reduce violations and improve driver safety and efficiency, the company says. The eDriver Logs system operates on dedicated tablets and, the company says, requires no additional hardware or software, including robust reporting capabilities — from daily driver reports to violations.
Company President Brian McLaughlin, addressing the In.Sight User Conference of PeopleNet and sister company TMW Systems, noted he was "pleased to announce certification of PeopleNet's Android system," company product vice president Eric Witty noting further PeopleNet systems remained to be certified as well.  Witty echoed McLaughlin's sentiments, further noting the company's status as a "pioneer in electronic logging and a trusted provider of safety and fleet mobility solutions."
Asked during a panel discussion at the In.Sight conference Monday whether he thought the December ELD deadline may be delayed, Witty didn't completely rule out the potential success of the ELD Extension Act of 2017, which has gathered cosponsors in recent times. "It's unfortunate, the timing of it," Witty said. Rep. Brian Babin (R-Texas) introduced it just under a month ago. "It seems to create uncertainty and doubt in the industry."
Witty added, however, that experts the company has talked to look at the House bill's chances as slim, given the short timeline left before the ELD deadline. The bill sits on the other side of what he likened to "step 2 of a 12-step process. If that process went smoothly and nothing went wrong," Witty said, the "chances of getting something passed by the deadline are slim. … For us, we just have to plow forward. Although our ELD is a part of the value we provide to the customer, it's just a small part."
PeopleNet also announced a collaboration with ISE Fleet Services, themselves a Trimble company and provider of a self-certified and registered ELD solution — eFleetSuite — in addition to being the software and compliance backbone for a variety of other hours of service logging programs. PeopleNet plans to integrate ISE's eFleetSuite compliance applications into its existing eDrive Logs  ELD. eFleetSuite is also planned to become a core component of PeopleNet's ConnectedFleet platform.