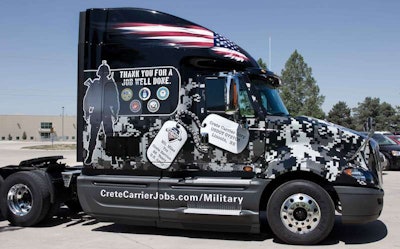 A bill signed into law this week by President Donald Trump makes it easier for active-duty military, reservists and veterans to obtain and keep their commercial driver's licenses by allowing them to use VA medical examiners to obtain their medical certificates.
The law, dubbed the "Jobs for Our Heroes Act," removes the "physician" qualifier for those who can give veterans medical exams and replaces it with "qualified examiner." A formal rulemaking from the DOT will be needed to enact the legislation.
A qualified examiner, as defined by the law, is a Department of Veterans Affairs advanced practice nurse, chiropractor, medical doctor, doctor of osteopathy, physician assistant or other medical professional who is licensed in a state to perform physical exams, is familiar with CDL medical standards and has never been found to have fraudulently awarded a medical certificate.
Additionally, the law applies CDL testing standards for military veterans to current active-duty military members and reservists. This allows current military members who have experience driving trucks in the service to apply for an exemption from the CDL skills test, and in some cases, the knowledge test as well.
Trump also signed into law this week a two-bill package to help cut down on human trafficking in the U.S. These laws will permanently disqualify anyone convicted of a human trafficking violation involving a commercial vehicle from holding a CDL, and establish a human trafficking prevention coordinator with the U.S. DOT.
The American Trucking Associations on Wednesday praised the signing of the bills.
"In addition to the major tax reform bill passed last year, these pieces of legislation will have a significant impact, addressing two separate yet very important issues affecting trucking," ATA President and CEO Chris Spear said. "While ATA continues to work on major issues like tax reform, infrastructure and trade, it is important that we secure victories in other areas to continue to advance trucking's agenda."