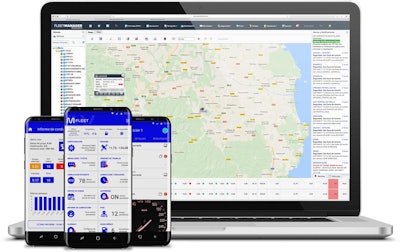 Verizon Communications announced the acquisition of Movildata Internacional, a Murcia, Spain-based provider of commercial fleet management solutions. Terms of the transaction, which closed on Jan. 19, 2018, have not been disclosed.
Verizon Telematics now has a strong presence across Europe in the United Kingdom, Ireland, the Netherlands, Germany, France and Poland. Movildata compliments its operations in southern Europe, specifically Portugal and Italy.
"We see Movildata as a natural fit and highly synergistic with our European business," said Andrés Irlando, chief executive of Verizon Telematics. "This strategic acquisition strengthens Verizon Telematics' market position, accelerates growth and allows us to expand the footprint of our market-leading solutions and services."
With more than five million commercial vehicles, Spain represents the second largest market for commercial vehicles in Western Europe according to industry analyst firm Berg Insight. The market for fleet management is significantly underpenetrated compared to other major markets in Europe, creating opportunities for growth.
Movildata employees have joined the Verizon Telematics team and will continue to drive sales and support for its current fleet management products. In addition, Verizon Telematics plans to add Fleetmatics' REVEAL to the portfolio of software available to Spanish fleet operators.