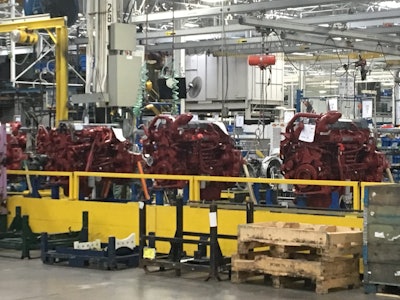 Preliminary North American Class 8 orders reached 40,200 units in February, exceeding the 40,000 unit mark for the second consecutive month – something that hasn't happened since November-December 2014.
"The capacity crunch is transforming into a capacity crisis and many fleets of all sizes, in all markets, across the country are scrambling to add trucks as fast as they can," says Don Ake, FTR vice president of commercial vehicles commented.
February order activity was down 15 percent month-over-month but up 76 percent year-over-year as fleets sought to add hauling capacity in response to strong freight growth.
"Robust freight growth is the primary driver and ELD implementation is just exacerbating a tough situation," Ake adds.
North American Class 8 orders for the past twelve months have now totaled 333,000 units.
"It looks like fleets held back some orders from the fourth quarter to see if freight growth would continue and if ELDs were final," Ake says. "Now that the environment is more certain, the orders have been pouring in. This upturn looks strikingly similar to 2015, but is now expected to exceed it. Production is ramping up and should remain vibrant into next year."