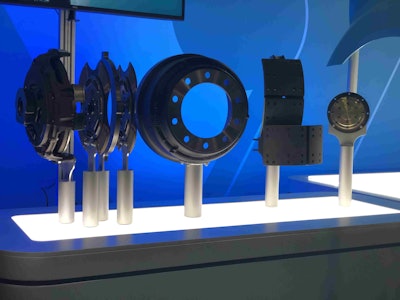 Navistar announced several updates to its parts business during a press conference at the American Trucking Associations' 2018 Technology & Maintenance Council's Annual Meeting in Atlanta. The company is rebranding its ReNEWed remanufactured components business by leveraging its OEM expertise along with customer support through its 700-plus International Truck dealer locations to help deliver on the company's promise for better uptime.
Through the ReNEWed brand, Navistar will now offer several new product lines in 2018, including the 2015 N13 engine and the 2010-2016 I6 engine as well as expanding the product line portfolio of remanufactured electronic components such as engine control modules, instrument clusters and body controllers.
Navistar also is growing its Fleetrite private-label parts business, adding an all-makes radiator and surge tank program this year on the heels of its all-makes collision parts program launched last year. Fleetrite now provides product coverage for 24 makes and models covering 80 percent of the vehicles on the road.
Fleetrite's commitment to uptime includes providing customers with access to parts within 24 hours after order, and Navistar opened its second parts-only Fleetrite store in Clearwater, Fla.
"To supplement our dealer locations, we want to continue to expand our regional and national footprint to ensure we are doing everything possible to meet our customers' needs with increased availability and faster delivery of quality products," said Josef Kory, Navistar's senior vice president for parts.
Kory said Navistar's parts business has experienced double-digit growth in the last five years. Combined, ReNEWed and Fleetrite offer more than 100 product lines giving customers alternatives when it comes to repairs and maintenance, lifecycle value, and total cost of ownership.