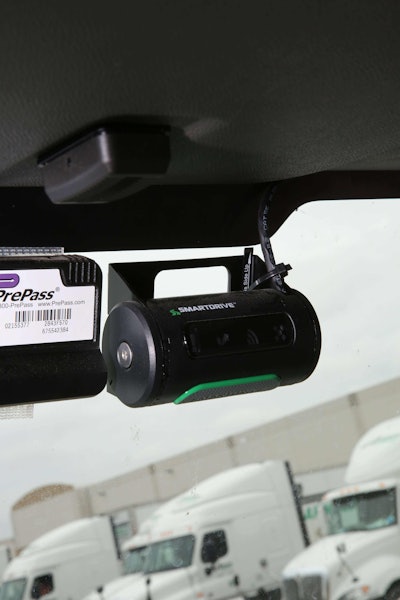 SmartDrive Systems, a provider of video-based safety and transportation intelligence, concluded 2017 with 30 percent growth in subscriptions and a 96 percent increase in straight-to-rollout deployments.
Results from 2017 show that fleets see video as a necessary safety solution and, as such, are skipping trials as SmartDrive has established a track record in the transportation industry, the company says.
SmartDrive expects its growth will accelerate with activity around the ELD mandate winding down and fleet managers turning their attention to safety priorities.
"While 2017 was the year of the ELD, fleets and insurance companies are stating that 2018 will be the year of video — something we've already seen evidenced by our own significant growth," stated Steve Mitgang, SmartDrive CEO.
SmartDrive tripled its transportation intelligence business in 2017 from customers leveraging data for operations and for driver scorecards to reduce fuel costs, inform driver recruiting, retention and rewards.
"With a database of over 210 million risky driving events and growing, we are in the unique position to help fleets unlock new opportunities for savings," continued Mitgang. "This wealth of data also positions us to inform new algorithms and technology innovation, whether in our own engineering organization or by partners who leverage our information in their product cycles."
Some of the new customers SmartDrive added in 2017 are Hub Group, Decker Truck Lines, Lyman-Richey, Arctic Glacier and Pottle's Transportation.
The company retained 98 percent of contracted units, which it attributes to its customer service and support.
In 2017, vehicles equipped with the SmartDrive program traversed 3.7 billion miles, equal to 20 round trips between the Earth and the sun. SmartDrive customers exceeded 210 million risky driving events recorded in 2017; of those, 30 million were in 2017 alone.
During 2017, the SmartDrive program issued 2.5 million alerts to SmartDrive team members and customers. The alerts triggered quick actions to resolve issues and make fleets safer, the company says.
Notable stats provided by SmartDrive show that customers avoid 24,000 collisions — nearly one collision avoided every 22 minutes by acting on alerts for "near misses." Overall in 2017, the SmartDrive program captured 23,612 collisions that helped fleets to reduce time to claims resolution and keep drivers on the road by exonerating them when not at fault.