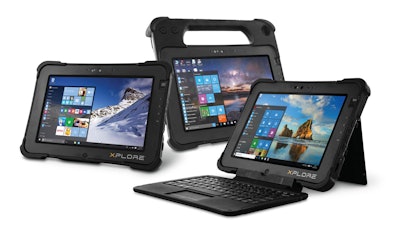 Xplore Technologies Corp. announced a new rugged mobility platform that has three different Windows 10-based mobile computer form factors, all of which are all compatible with a single, shared accessory set.
The new Xplore L10 lineup features the XSLATE L10 slate tablet PC, the XPAD L10 tablet PC with a hard handle and built-in barcode scanner option, and the XBOOK L10 2-in-1 laptop/tablet complete with a Companion Keyboard and KickStrap.
The company says that each Xplore L10 model can be custom-equipped with the performance, security, connectivity, and usability features that its customers need to accommodate their mobile workers' device preferences and to address a wide set of application workflows in the field, a vehicle, the shop floor, or in the office.
Its customers will also be able to choose from multiple Intel processors.
"We have applied more than 20 years of rugged mobile computer engineering, and over two decades of customer feedback, to the design of the Xplore L10 rugged mobility platform," said Xplore's Chief Revenue Officer John Graff. "In doing so, we have introduced the industry's first shared accessory ecosystem, which is a significant cost-saver for customers. We have also created an extremely durable, future-proof computing platform that will give organizations greater flexibility within their entire IT architecture."
Each of the three rugged tablet-based form factors in the Xplore L10 mobility platform is also available with:
A 4G LTE card that will boost data download speeds by up to 600 percent and upload speeds by up to 300 percent over previous generations, greatly improving worker productivity in the field.
A standard 500 nit or 1000 nit View Anywhere display with Gorilla Glass for optimized indoor and outdoor viewing
A number of I/O ports to stay connected to legacy and future technology systems, including standard RJ-45, two USB 3.0, USB-C ports along with optional True Serial and HDMI-in
The latest-generation NFC, Bluetooth 4.2, 802.11 ac Wi-Fi, UBLOX GPS, and 4G LTE mobile broadband technologies for uninterrupted connectivity
Simultaneous MIMO WWAN, MIMO WLAN, and GPS pass-through antennas to improve in-vehicle throughput.
Multiple security features, including two Smart Card/CAC reader options, a Kensington Lock, TPM 2.0, removable SSDs, and an integrated fingerprint reader
One shared accessory ecosystem, including docks, batteries, and chargers.
"Until the L10, no vendor had provided manufacturers, public safety professionals, utilities, and other field service and industrial organizations with a single rugged mobility platform that offers several form factor and feature set options to support their diverse mobile workforces," Graff continued.