CCJ's Indicators rounds up the latest reports on trucking business indicators on rates, freight, equipment, the economy and more.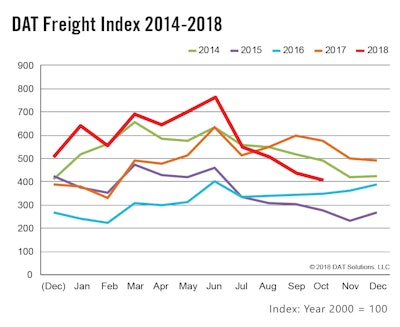 Severe weather in Asia and the U.S. Eastern seaboard slowed seasonal freight flows in October, according to DAT Solutions' monthly DAT Freight Index, with the weather disruptions led to truckload transportation delays at U.S. ports, DAT says.
As a result, spot market freight availability hit a low point for the year in October. October volume was 7 percent lower month over month and 33 percent below October 2017 levels.
Truckload freight rates also slipped lower for all equipment types, compared to September. Rates remain well above 2017 levels, however, due partly to an increase in fuel surcharges that compensate for rising diesel costs.
"We expected a seasonal rebound in October but it was interrupted by Hurricanes Florence and Michael in the Southeastern U.S., as well as Typhoon Mangkhut in Hong Kong," explained DAT market analyst Peggy Dorf. "Some of that demand for truckload capacity has shifted into early November, with imported goods moving from sea ports to regional distribution centers across the country."