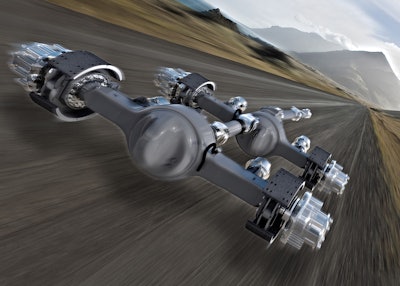 Downspeeding isn't a new concept in trucking but it wasn't until recently-retired Volvo Trucks engineer Ed Saxman named it in 2011 – coinciding with industry-wide explosive adaptation of the automated manual transmission (AMT) – that it started to take off.
The growth in popularity of the AMT was a major factor in helping propel downspeeding into the dictionary of trucking fuel efficiency.
"An AMT is capable of making shifts at the appropriate time to keep the rpm low, but also to keep [the truck] drivable so when the driver really does need to accelerate … it's able to do that," says Eaton Application Engineering Mike Garrison. "The AMT looks at a wide variety of driving factors that are going on in real-time in order to optimize the shift strategy and balance performance with fuel economy – to give [the driver] performance when he needs it, but to keep the rpm low the rest of the time to save that fuel."
Behind the AMT, downspeeding uses a taller rear gear ratio in order to lower engine speed and improve fuel efficiency.
"Axle ratios have been getting faster (lower numerical value). Axle ratios were very common, for overdrive transmissions, to be in the mid and low 3s," Garrison says. "Today, with a lot of these line haul downspeeding specs, it starts with a 2. That's changed quite a bit."
Nearly 25 percent of the rear ends Meritor sold in 2011 came with a 3.55 axle ratio. By 2016, that figure dropped to about 5 percent.
Across 40K, linehaul, 6X4 applications, a 2.64 ratio has climbed from about 7 percent to about 13 percent in that same time frame, notching its place as the leading ratio in Meritor's product suite.
"Axle ratios range shifted towards faster ratios due to downspeeding," says Meritor Senior Director of Rear Drivetrain Engineering Carlos Pinotti. "By the end of 2016, 2.64/2.47 ratios represent 25 percent-plus running [direct drive and overdrive] transmissions."
A 2.47 ratio is the biggest gainer over that 5 year span, climbing from less than 3 percent to a nearly 10 percent order share.
Garrison says the output torque of the engine has improved in recent years, helping further enable downspeeding by making torque available deeper in the rpm range.
"When you cruise down at lower and lower rpm … one of the things that allows that is that torque is available down to those levels," he says. "Years ago, the torque curves were kind of rounded and not flat, which meant peak torque was only available in a tight rpm band where now it's very flat across a wide rpm range."
The availability of torque lower in the powerband means fleets who previously never considered a faster axle ratio on new equipment could possibly switch rather painlessly.
"Engine technology has changed and they're putting more torque in the engine at the lower rpm," says Steve Slesinski, Dana's director of global product planning for commercial vehicles. "So whatever ratios you were spec'ing on previous powertrains likely needs to change anyway. Don't just say, 'I've always run a 3.55 ratio. I want that in my next truck.'"