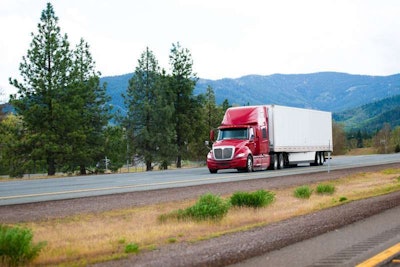 Downspeeding is best suited for truckload, over-the-road applications that spend a lot of time in top gear.
"A typical stop-and-go application isn't going to benefit much more from having performance or capability," Meritor Senior Director of Rear Drivetrain Engineering Carlos Pinotti says. "You don't need to achieve a given cruising speed range. You need performance. You need startability much more than a cruising speed in a downsped range."
To determine whether or not downspeeding is suited for a given segment, John Moore, Volvo Trucks North America powertrain product marketing manager, says the first thing a fleet has to do is set a target on the engine's optimized rpm range.
"Write down what your speed is, write down what your tire size is and then come up with the correct rear axle ratio that matches the sweet spot of the engine," he says. "It's all about making all the components come together and give you the right engine rpm for the speed and tire size you're working with."
For fleets that reward drivers for top-tier mpg performance, Eaton Application Engineering Mike Garrison says a downsped truck can be an attractive tool for driver retention.
"Drivers care about fuel economy, especially if they're incentivized around it," he says, adding the balance between performance and fuel efficiency is important. "Drivers also don't like getting passed going up hills or being limited to 62 mph."
Fleets that run few on-highway miles, or don't spend long stretches in top-gear, won't find the same fuel economy benefits as the long-haul segment but Steve Slesinski, Dana's director of global product planning for commercial vehicles, says there are some benefits to be had.
"Potentially, downspeeding could benefit other vocations because overall, in general, you're running the engine less rpm over its lifetime," he says. "Less revolutions over a period of time should in fact be better for the components."
Moore adds that, generally speaking, an engine that is running at a lower rpm translates to a quieter cab in most every application.
Spec'ing a downsped setup can also be a tricky proposition for truck that are used in multiple segments.
Scott Steurer, Application Engineer at Eaton, notes larger fleets have a luxury in being able to target specific jobs that take advantage of a truck's performance, where smaller fleets often need a more general spec capable of running a mixture of city, highway, rural and urban routes.
Garrison says another challenge is driving speed. While the trend in downspeeding is to look at cruise rpm, the operating road speed can vary significantly from state-to-state, making it tough to optimize specs when you cross regions.
"People really need to understand what speeds they are going to run and how are they going to handle these slower states," he says. "That really can make a difference in them realizing the kinds of benefits they are looking for."