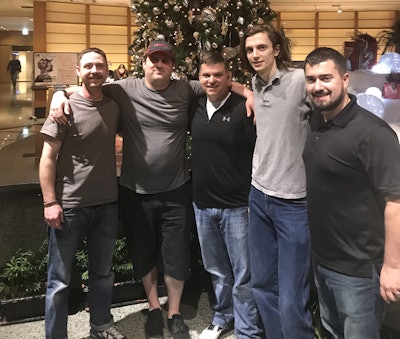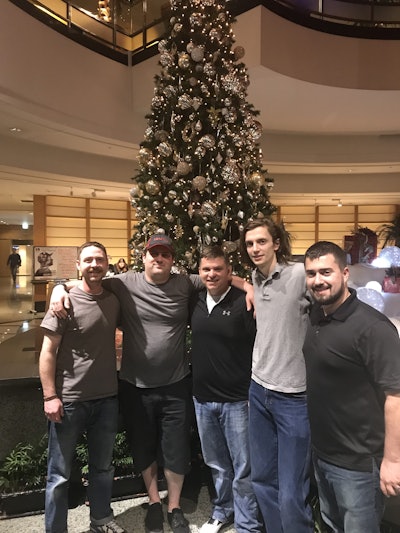 Three Isuzu Commercial Truck of America (ICTA) technicians landed in Tokyo this week with hopes of being the first group of American maintenance professionals to win the company's global I-1 Grand Prix World Technical Challenge.
Matt Bertagnoli, of Lynch Isuzu Truck in Waterford, Wisc.; Josiah Carr, of Susquehanna Isuzu Truck in West Milton, Penn.; and Kiel Trout, of RWC Isuzu Truck Seattle, bested nine other service techs from across the U.S. and Canada in August in the company's second annual North American competition for the right to to represent the States in Japan this week.
They will square off Thursday against 31 other teams from around the world for global bragging rights.
Team USA has reached the podium only once in the event's 13 year history: last year with a runner-up finish. However, Technical Training Specialist for Isuzu Commercial Truck of America Justin Ridings – who coached last year's 2nd place group – says this squad is poised to do something special.
"These technicians adapt very well," he says. "They can analyze the situation quickly and efficiently and between the three of us, we can establish a plan very quickly. I think that is the biggest advantage that we have over last year's team."
The unit practiced at ICTA's Center of Excellence Training Center in Pittston, Pa., training, reviewing written tests, taking practice tests and performing dry runs on equipment for three weeks.
The U.S. contingent is faced with a challenge of working on Japanese models of trucks equipped with an unfamiliar electrical system; the Isuzu's 4J engine platform, which that common in the U.S.; and using a diagnostic platform not found in North America.
"The service and procedure differ a little bit from what the American workshop manual displays," Ridings says.
The American group didn't have a physical truck to work on but improvised with a U.S. version and placing Post-It notes where components would be on a Euro 5 model. Trout says the group was able to use spec information and photos provided by Isuzu to visualize where components are located on the truck.
"The emission system over here, the DEF tank is on one side. They don't have that over there so the battery box is moved forward," Bertagnoli adds, "and on the other side, like where the emission system is, is actually where their fuel tank is."
Trout, who Ridings says is "very quick and thorough with reading information and processing it", will serve as the team's diagnostics specialist. Bertagnoli, who draws high marks from Ridings for his "adaptive characteristics," will handle most of the mechanical heavy-lifting.
Carr, serving as an alternate, has been aiding the group in practice and stands ready to swing into action should a need arise.
"Josiah has played a very important role in the whole training process," Ridings says. "He's not only observing and learning the responsibility of each technician, but he's been a huge part in arranging each [practice round] task. He's not physically going through the motions of the responsibilities of technicians A and B, but he understands thoroughly what has to be done."