CCJ's Indicators rounds up the latest reports on trucking business indicators on rates, freight, equipment, the economy and more.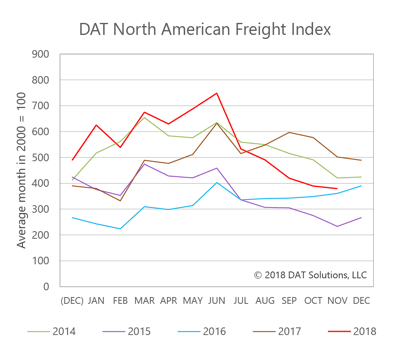 Spot market freight volume, rates slipped again in November: Spot market freight volume in November slipped 2.5 percent from October and a whopping 24 percent year over year from November 2017, according to loadboard operator DAT.
Reefer was the lone stand out, with the segment's freight availability climbing 8 percent from October.
However, DAT notes, volumes and rates are likely to rebound in December. "Spot market volumes and rates are likely to rise through December, as e-commerce deliveries continue to ramp up," said DAT market analyst Peggy Dorf. "Retailers are offering nearly unlimited free shipping to online customers during the holiday season, boosting orders and adding to pressure on freight transportation and logistics."
Cass calls November a 'month of high volatility," as freight shipments and expenditures dip: Both freight shipments and expenditures dipped in November from October, according to Cass' monthly Freight Index Report. However, both were up year over year compared to a strong November 2017. Cass called November "a month of high volatility" due to "growing uncertainty" over the U.S. and global economies.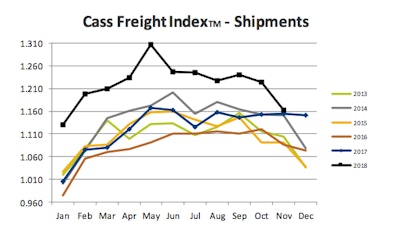 Shipments dipped 5.1 percent from October, while expenditures fell 2.4 percent. Year over year, shipments were up six-tenths of a percent, and expenditures were up 8.4 percent, mostly likely due to the rate hikes seen this year.
"The hard data of physical goods flow, which is uninfluenced by human emotion, confirms that people are still making things, shipping things, and buying / consuming things. Although not at the scorching pace attained earlier this year, expansion is still taking place at an above average
pace," the firm said in its report.
"The current level of volume and pricing growth is suggesting that, while it's still growing, the
U.S. economy is simply not growing at the rate it was and that it may have reached its short-term expansion limit."