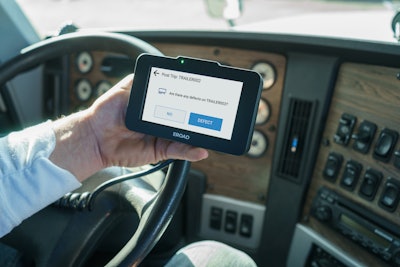 Pre- and post-trip inspections are supposed to be routine, like clockwork. The reality is drivers may not be doing them at all. Paper inspection forms are notorious for being "pencil whipped" into submission.
Electronic driver vehicle inspection reports (DVIRs) may not be the answer. Drivers can just as easily "button push" electronic forms without ever leaving the vehicle. Or can they?
A number of technology companies have reporting features to ensure that inspections are completed properly and that any items needing repair are instantly getting the attention of fleet maintenance.
Tracking a walk around
Zonar's EVIR (electronic vehicle inspection report) system utilizes a tablet to read RFID tags placed in zones around a vehicle. The driver must scan each tag to ensure the inspection is completed outside the vehicle. EVIR also tracks the time drivers spend in each zone.
The EVIR system sends inspection data to Zonar's fleet management portal, Ground Traffic Control, when drivers place the tablet into the cradle. Any defects noted in the EVIRs are emailed directly to mechanics who can update the repair status through GTC.
Zonar is developing a new EVIR version for use with a broad range of mobile devices such as the Samsung Tab 5 and smartphones, says Fred Fakkema, vice president of compliance.
Verizon Connect's DVIR application tracks a driver's movement around the vehicle and time spent for an inspection by using the GPS from mobile devices, says Jason Walton, marketing manager. Alerts can be sent to managers if inspections are not completed properly.
Tracking driver movements is more the exception than the rule for DVIR products, however.
EROAD, a truck telematics and ELD provider, uses an in-cab device that is tethered to the vehicle. This approach eliminates connectivity issues with Bluetooth and prevents breakage in the work flow between recording hours and conducting pre- and post-trip inspections, says Scott McCollister, senior product manager.
EBE Technologies has electronic DVIR forms in the Connect Mobile Capture (CMC) app. Fleets use the app for a variety of driver workflow functions. EBE can use DVIR data captured by ELDs and third-party applications as well.
"From our perspective, collecting the data is not as important as what you do with the data," says Cindy Nelson, EBE's vice president of marketing and business solutions group.
EBE's cloud-based workflow software feeds data into fleet maintenance systems to initiate repair orders. It can also compare DVIR forms received from drivers with dispatch data to identify any missed pre or post-trip inspections based on driver load assignments, she explains.
Custom inspections
All companies that offer DVIR applications say inspection checklists can be customized to match fleet-specific needs.
With the Omnitracs DVIR application, drivers can also enter comments for each defect or for the inspection as a whole. The carrier is able to configure whether the comments are required or optional.
Additionally, Omnitracs can automatically switch the DVIR forms between Canadian inspections and US inspections based on the vehicle's location, says Kam Roshan, lead product manager at Omnitracs.
Trimble offers multiple DVIR product options, from a basic application that is intended only for compliance with the regulations up to an application that has integration with maintenance systems to provide an end-to-end process and data sharing.
"The more advanced version enables issues found during the inspection to automatically be sent to the maintenance application so that repairs can be planned and scheduled," says Eric Witty, Trimble vice president of product.
Trimble offers a forms-based application for customers that want to capture data to use in their own custom applications, he says.
Photos are one of the most useful tools for drivers to capture defects in inspections by attaching photos of items using tablets and smartphones.
"One key benefit we've seen customers gravitate towards is the ability to take a photo and associate it with a defect," says Rahul Chhabria, director of product marketing for ELD provider KeepTruckin. "This is important in situations where the defect was minor at the time but became major while driving."