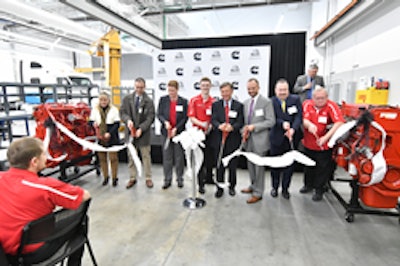 Cummins has partnered with Salt Lake Community College (SLCC) to train service technicians working toward an associate of applied science degrees through the Cummins' Technician Apprentice Program (TAP) at SLCC's Westpointe Workforce Training & Education Center.
TAP, a collaboration between industry and higher education, is a two-year program that provides training across a variety of diesel platforms and technologies, full-time employment during the program, free tuition and course credits that transfer to four-year degrees.
SLCC is one of three institutions in the U.S. that host the TAP program and provide job training to Cummins' employees.
To date, Cummins Inc. has sponsored 30 apprentice students by paying for their education and program expenses at SLCC. While in the program, students participate in an intense United States Department of Labor Technician Apprenticeship, where they will earn their associate degree from SLCC and be Cummins-certified in engines.
Salt Lake Community College is Utah's only accredited community college. Home to more than 60,000 students each year, the college is Utah's leading provider of workforce development programs and the largest supplier of transfer students to the state's four-year institutions. SLCC is also a top 10 college nationally for total associate degrees awarded and the leading provider of applied technology courses in the Salt Lake area.