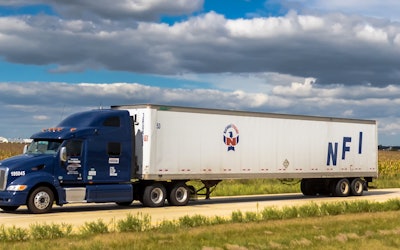 The California Labor Commissioner recently awarded nearly $6 million to 24 drivers who sued their carriers claiming they were misclassified as contractors. The late-December judgments came against companies now owned by National Freight Industries (NFI).
On Dec. 28, Hearing Officer Melanie Do determined CCX2931, formerly known as California Cartage Express, owed 14 drivers more than $3.7 million. She also held Jim Degraw, the company's operations and general manager, jointly responsible for violating California's wage-and-hour laws. Reportedly, this is the first use of a 2016 state law extending liability to the company executives responsible for wage theft.
In a separate case, $2.2 million was awarded to 10 drivers on Dec. 26. Defendant CM2931, formerly California Multimodal, was found liable, but the plaintiffs decided to not pursue claims against a former owner and an ex-executive also listed as defendants.
The judgments are for unpaid wages and business expenses, not providing meal and rest breaks and failing to immediately pay wages due terminated drivers. It includes damages for not paying minimum wage, interest and attorney fees. Half the CCX2931 plaintiffs still work for the company, and three drivers continued with CM2931 after 2017.
CCE and CMI adopted their current names on Oct. 10, 2017, days after the New Jersey-based NFI acquired the companies. In 2016, CM2931 plaintiffs filed claims between Aug. 3 and Oct. 20 followed by CCX2931 drivers last August.
The drivers successfully argued to suspend the state's three-year statute of limitation by using equitable tolling. The applicable period begins three years before the filing of two similar but settled class action lawsuits. Using Campos v. California Cartage, the commission considered violations that began in 2012 for CCX2931 and based on Martinez v. California Multimodal, 2013 for CM2931.
The NFI said the commission cases were part of an ongoing effort by the Teamsters Union to push drivers to become company employees instead of contractors."The Division of Labor Standards Enforcement decisions relate to alleged violations that took place prior to NFI's acquisition of Cal Cartage and were not issued against NFI or its Cal Cartage operations," it stated. "We understand that the decisions are being appealed, at which time the decisions become void and subject to a new trial."
California Superior Court could hear an appeal if filed within 15 business days of the commission order's certification of service or 20 business days if delivered to an out-of-state address.
More than 600 drivers work for the five NFI companies operating in LA/LB ports, according to City of Los Angeles records.