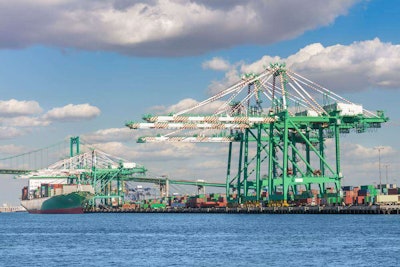 As part of a law enacted in September in the state, California has posted a list of drayage carriers that the state claims have committed labor law violations against their drivers. Such violations, according to the state's Department of Industrial Relations, include wage theft and misclassifying company drivers as independent contractors.
California will populate the list with carriers who have been ordered by courts to award wage-related settlements to drivers but who have not satisfied the order. Also included will be companies who have an outstanding "tax assessment or tax lien," according to the law's text.
The list is available at this link, and the state has said it will update the list monthly by either removing companies who have settled the wage law violations ordered in court and by adding new companies who've had action taken against them.
Part of the intention of the law, which was signed by former California Gov. Jerry Brown (D) in September, is also to hold shippers accountable for the companies they contract with to haul their freight. Should a shipper hire a company from California's new list, they could be held partially liable for any wage claims brought against the carrier.
However, joint liability would not apply to shippers who utilize dray carriers whose employees are, according to the law's text, under a "bona fide collective bargaining agreement" with the Teamsters or other union that spells out wage and hour details; who have existing contracts with carriers prior to their inclusion on the public list and wish to terminate the agreement; or who utilize carriers who have satisfied conditions for removal from the list.
California says it will contact the companies slated to appear on the list at least 15 days prior to its publication to allow them to settle any pending wage orders.
Included in the list are the carriers' names, addresses and the judgment amount against them.
The state says the law stems from what it says are prevalent practices that exploit port truck drivers. "California's port drayage drivers are the last American sharecroppers, held in debt servitude and working dangerously long hours for little pay," the law reads. It cites practices like sublease programs with drivers, whereby the carrier deducts the cost of truck payments and insurance from their paychecks, yet the drivers often times end up not owning the vehicle and, occasionally, end up owing the carrier money, meaning the drivers are "essentially working for free," the law states, quoting a USA Today article.