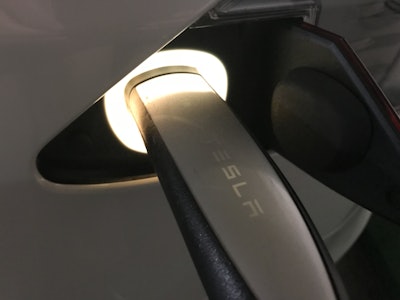 Electric truck charging in the foreseeable future is going to be private – either at a depot, or within a return-to-base operation. That was one of the findings in the latest guidance report, "Amping Up: Charging Infrastructure for Electric Vehicles," by the North American Council for Freight Efficiency (NACFE).
"It's difficult to assess the benefits and the challenges of what's coming in the future so we tried to take a look at charging for all commercial electric Class 3-8 trucks," NACFE Executive Director Mike Roeth, said during a press conference Friday, "but there is more of a focus on the nearer-term opportunities. In this case that's medium-duty and drayage."
Jessie Lund, Rocky Mountain Institute associate and author of the NACFE report, said there are tentative plans for public, fast-charging networks across main corridors throughout the country that would be capable of quickly charging commercial vehicle batteries, "but we don't see that as a reality for the immediate future."
Another key finding from the report, according to Lund, is the importance of fleets working with utility companies throughout the process and getting them involved early.
"Due to the nature of the charging solution, utilities are going to need to be partners throughout the planning and deployment stages," Lund says.
The more electric trucks are deployed, the more streamlined the process and utility offerings are expected to get.
"We're already starting to see utilities working with fleets to offer what are called make-ready programs that can help ensure [fleet] facilities have the electrical distribution infrastructure needed, which can be anything from adequate transformers and conduit to potentially new meters for EV charging," Lund said. "We expect this trend to continue as more utilities develop programs specifically targeted to commercial medium- and heavy-duty fleets."
Fleets shouldn't "be shy" in working with utility companies and telling them what they need, Lund said. "Utilities want to see commercial electric truck charging succeed as well, whether it's to satisfy state and local goals that might exist in their service territories or simply to increase their electricity sales," she added.
Given the lifespan of trucks and as electric trucks are deployed, companies will find themselves with vehicles running on diesel, gasoline and maybe even natural gas, Roeth said. Adding EVs to the mix makes "whole-site planning … really key."
Utility programs and rate structures are enabling EVs to charge successfully and economically in growing areas of the country, according to the report.
"However, to scale electric vehicle adoption across the nation, much broader and faster design and approval of these sorts of programs by utilities and regulators is needed," the report states. "Although not sufficient today, charging infrastructure is not an insurmountable problem."
– Bill Grabarek