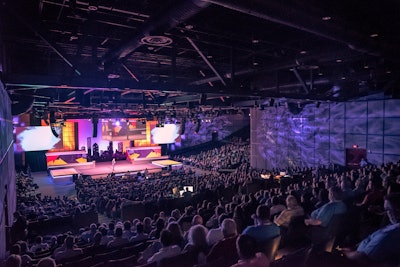 Trimble has opened registration for its 2019 in.sight user conference + expo for transportation, to be held September 15-18, 2019, at the George R. Brown Convention Center in Houston, Texas.
The theme for this year's in.sight is the "Power of Together" and the three-day event will have industry speakers, educational sessions and networking opportunities. Trimble says the conference will demonstrate how the company and its customers, working together, can make transportation safer and more efficient.
"Our customers represent many of the brightest and most innovative minds in the industry. in.sight gives us the opportunity to come together and share ideas on how to use technology to improve transportation," said Thomas Fansler, general manager of Trimble's Transportation division. "We look forward to returning to Houston this year and continuing to make in.sight an unparalleled educational and networking event for every attendee."
Last year, the in.sight user conference + expo was attended by more than 2,000 transportation industry professionals. The event showcased Trimble's diverse customer base and provided attendees with hands-on experiences from educational sessions and technology exhibits from dozens of solutions providers. This year's agenda features three full days of educational sessions, speakers and networking events as well as an opportunity to see the latest transportation solutions from Trimble.
For more information and to register, visit: www.insightuserconference.com.