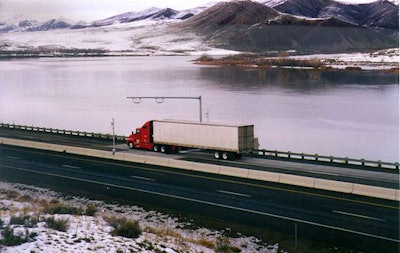 Truck weigh station bypass service provider PrePass has added a new feature, called Alerts, to its PrePass Motion bypass app that gives truck drivers roadway safety notifications.
With Alerts, drivers receive notifications when they are approaching areas with high winds, steep grades, traffic work zones and no commercial vehicle access roads. Alerts is available as part of the Motion app on Android and iOS powered smart phones, tablets and selected in-cab telematics devices.
"This upgrade to PrePass Motion gives drivers very important safety information as they travel down the road to better prepare them for potentially adverse driving conditions," said Mark Doughty, president and chief operating officer of HELP Inc., the non-profit partnership that provides PrePass. "Thanks to the input of our DOT, enforcement and trucking industry partners, we quickly responded to a need for such alerts, and are the only weigh station bypass service provider offering these safety enhancements."
PrePass Motion can be used as a standalone app or in conjunction with the PrePass transponder for weigh station bypassing.
"When traditional transponders and Motion are paired together, customers get the most complete and reliable bypass service available anywhere," said Doughty. "Most importantly, PrePass Alerts provide information that can immediately and directly improve highway safety."