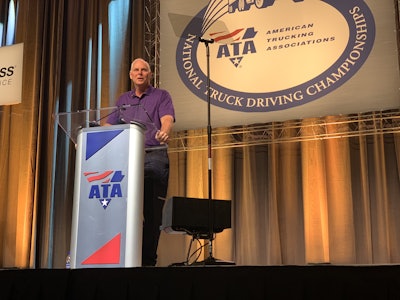 Reigning National Champion Scott Woodrome is back to defend his title. He tells the room full of competitors:

Trophies are only a momentary celebration. But the friendships you make at this competition will last a lifetime. #NTDC2019 pic.twitter.com/RRDcnoV27U

— American Trucking (@TRUCKINGdotORG) August 15, 2019
An Ohio-based truck driver for FedEx Freight was named the Bendix Grand Champion at the 2019 National Truck Driving Championships for the second consecutive year.
The American Trucking Associations announced that Scott Woodrome once again claimed the honors after he competed in the Twins division. He has been in the trucking industry for 25 years, 13 of which have been with FedEx Freight.
Last year, he won the Bendix Grand Champion trophy after competing in the Tanker class. He also previously won the 2017 National Champion Award in the Tanker class and six Ohio state championships.
"Congratulations to Scott and his great team at FedEx Freight, as well as the entire Ohio trucking industry, for repeating as this year's Bendix Grand Champion Award winner," said ATA President and CEO Chris Spear. "This process began with thousands of drivers competing at the state level, but only one driver can emerge as overall grand champion. It's a true reflection of Scott's commitment to safety and the trucking industry as a whole that he was able to take home top honors again this year."
Woodrome also took home the Twins class national title. He lives in Middletown, Ohio, with his wife, Lorraine.
ATA also recognized John Sanderson as the 2019 Rookie of the Year after his performance in the three-axle division. To qualify as a rookie, drivers must be first-time competitors at the state level who advanced to nationals. There were 32 rookies at the National Truck Driving Championships competition.
Champions from each of the nine vehicle classes are:
3-Axle
Brian Walker –UPS Freight, North Carolina
Jeffrey Slaten – YRC Freight, Florida
John Sanderson – FedEx Express, Oregon
4-Axle
Adam Heim – FedEx Freight, Idaho
David Rohman – FedEx Express, North Carolina
James Plaxco – Old Dominion Freight Line, Oregon
5-Axle
David Hall – ABF Freight, Arkansas
Ina Daly – XPO Logistics, Arizona
Alphonso Lewis – YRC Freight, Alabama
Flatbed
Basher Pierce – FedEx Freight, North Carolina
Scott Osborne – FedEx Freight, Mississippi
Eric Flick – FedEx Freight, Nevada
Sleeper
Mike White – Walmart Transportation, Indiana
Terry Wood – Walmart Transportation, Pennsylvania
Michael Barnes – Walmart Transportation, Virginia
Straight Truck
Jason Imhoff – Walmart Transportation, Ohio
Robert Dolan – XPO Logistics, Pennsylvania
Matthew Hart – FedEx Freight, Nevada
Tank Truck
Paul Brandon – FedEx Freight Connecticut
George Wells – Shamrock Foods Company, Arizona
Cecil Hicks – FedEx Freight, North Carolina
Twins
Scott Woodrome – FedEx Freight, Ohio
David Mogler – FedEx Freight, Colorado
Shannon Lynch – United Parcel Service, Indiana
Step Van
Adam Stroup – FedEx Express, Nebraska
Gregory Long – FedEx Express, Virginia
Eric Damon – FedEx Express, Colorado