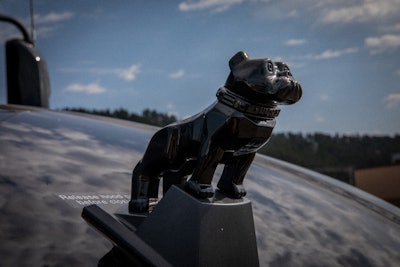 Mack Trucks at the the North American Commercial Vehicle Show in Atlanta Monday announced the debut of a limited edition Mack Black Anthem.
Mack teased a blacked-out concept at the launch of its Anthem in 2017, and Mack Trucks Director of Product Strategy Roy Horton said it was an instant hit with drivers at truck stops – even though it wasn't commercially available.
"We took their feedback, combined the unique exterior treatments with special interior features and created the Mack Black Anthem you see today," he said.
"The most badass truck on the road just got even badder," added John Walsh, Mack Trucks vice president of global marketing.
Limited to a run of 500 70-inch stand-up sleeper trucks, the Mack Black features include a black Mack wordmark across the grille; cab steps and deck plates are powder-coated in black, and flat black trim stripes are added to the air intakes on each side of the hood; black mudflap brackets, black aluminum fuel tanks, Alcoa Durablack aluminum wheels, a limited edition Anthem doorplate and a custom black Mack Bulldog hood ornament – a first ever for Mack.
Inside, the steering wheel has been wrapped in black leather and gauge bezels have been blacked out and black wood trim accents added. Black seats and sleeper trim tie the rest of the interior package together.
Each Mack Black Anthem, which are now available for order, also comes with a YETI soft-side cooler and commemorative memorabilia, including a custom Mack watch, a diecast Mack Black Anthem and a black Mack Bulldog keychain.