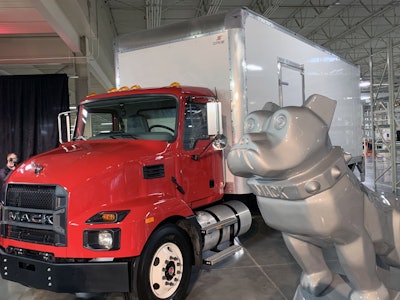 Mack Trucks on Thursday cut the ribbon on a new production facility in Salem, Virginia, that the company will use to build a new medium duty truck lineup.
Mack's Roanoke Valley Operations (RVO) – a 280,000 square foot facility, representing an investment of $13 million in Roanoke County – will employ upwards of 250 people and is charged with birthing Mack's new MD6 and MD7, Class 6 and Class 7 trucks, respectively.
Jonathan Randall, Mack Trucks senior vice president of North American sales and marketing, noted the official unveiling of RVO and the company's expanded lineup caps a process that started two years ago.
Governor Ralph Northam has approved a $700,000 grant from the Commonwealth's Opportunity Fund for the project. Mack's investment will be being used for equipment, tooling and building enhancements.
"This is a great day for Salem, a great day for Roanoke County and a great day for all of Virginia," said Brian Ball, Virginia's secretary of commerce and trade.
Unemployment in Virginia sits at 2.6%, a full percent below the national average, and Mack Trucks President Martin Weissburg cited the local pool of potential employees as an attraction to the area.
Another draw, Mack Senior Vice President of Strategy and Business Development James Chenier said, is RVO's strategic position along Interstate 81 between Mack's Geeensboro, North Carolina, headquarters (115 miles) and its Allentown, Pennsylvania, (375 miles) truck production site. It's also less than an hour from sister company Volvo Trucks North America's New River Valley truck production site.
"We're excited about being part of being part of this community," Weissburg said.
The operation is expected to have annual impact of $364 million across the region.
The Mack MD6 & MD7
Mack's new medium duty entries – the Class 6 MD6 and Class 7 MD7 – unlocks new over the road segments for the truck maker since its departure from medium duty segment in 2003.
The Mack MD6 has a Gross Vehicle Weight Rating (GVWR) of 25,995 pounds, and the MD7 model has a GVWR of 33,000 pounds. Both are exempt from the 12% Federal Excise Tax (FET).
Serial production of the trucks is set to begin this summer and the company is already taking orders.
The MD lineup becomes the first automotive project in the State of Virginia to go from prototype to production, and targets trucking applications in dry van and refrigerated segments, and stake/flatbed, dump and tank truck vocations.
The exterior is stylized similarly to Mack's on-highway champion, Anthem, but the new MD trucks will be equipped with Cummins 6.7 liter engine, making 300 hp and 660 lb.-ft of torque, and matched with an Allison 2500HS transmission and Meritor axles.
Available in a 4×2 configuration and in eight wheelbase lengths, Mack says both models will feature a sharp wheel cut for urban maneuverability and noted the MD Series cab design features a short, industry-leading, 103-inch bumper-to-back-of-cab (BBC) measurement.