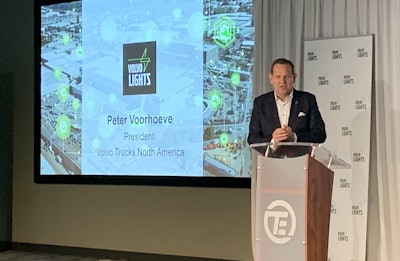 Volvo Trucks North America has turned on the LIGHTS.
Announced just more than a year ago, the Low Impact Green Heavy Transport Solution (LIGHTS) partnership teamed together Volvo Trucks North America (VTNA) fleet customers NFI and Dependable Highway Express in the deployment of electric VNR trucks at their California port operations. The deployment was part of a joint effort to demonstrate the ability of battery electric vehicles (EVs) to improve freight and warehouse efficiencies, reduce emissions and improve air quality.
California Air Resources Board (CARB) board member Barbara Riordan, speaking at the LIGHTS Innovation Showcase Tuesday at Volvo Trucks' TEC Equipment dealership in Fontana, California, noted that "90% of Californians still breathe unhealthy air during some time of the year."
CARB provided more than $44 million in funding for the LIGHTS initiative, which, all-in, is a more than $90 million project. Other stakeholders in the project – there is a total of 15 partners – are California's South Coast Air Quality Management District (SCAQMD) and several transportation and electrical charging infrastructure participants.
Paraphrasing former U.S. president Harry Truman, Volvo Group President and CEO Martin Lundstedt said "it's amazing what you can do when you don't care who gets the credit."
"Partnership is the new leadership," he added.
Lundstedt noted 40% of all imports pass through California's ports, making the Golden State a logical launching point for the LIGHTS initiative.
The first five LIGHTS trucks have been ordered and delivered. The 113-inch BBC electric VNR models being used in the test are based on technologies currently in use in the North American Volvo VNR, the European Volvo FE electric tractor and leverage some of the company's experience in electric buses. Volvo has sold more than 4,000 electrified buses since 2010.
Deploying those units in real world operations, VTNA President Peter Voorhoeve said, was vital for the company as Volvo seeks to glean mountains of data from the units to refine its technologies before limited commercial production ramps up later this year.
"One of the conditions for us is we don't want a pilot. We don't want a showcase. We want a commercial solution," Voorhoeve said. "LIGHTS is an accelerator of this development."
"We are moving into the second phase of electrification, into adoption," added Lars Stenqvist, Volvo Group chief technology officer.
Stenqvist said the LIGHTS project will also help Volvo define the lifecycle and range of the truck's batteries, adding the project will go through two generations of batteries before entering production by the end of 2020.
"The speed of battery development will be decisive for the update of electric vehicles," he said, adding that Volvo is "ready to scale production of electric trucks when demand starts to grow."
The VNRs slated for operation around the Port of Los Angeles feature center-mounted dual electric motors with a 2-speed gearbox. Behind that is a mostly conventional driveline. Four packs of batteries, each weighing about 1,150 pounds, supply onboard power. The charging port is mounted on the driver's side. The battery system is designed like a shelf, allowing packs to be slid in and out for service.
Brett Pope, VTNA director of electric vehicles, said the truck's radiator is functional, keeping the system heated and cooled and supporting battery life.
Infrastructure
Nearly 60 chargers have been deployed as part of the LIGHTS project, with both light- and heavy-duty capabilities.
Trillium, part of the Love's Travel Stop company, will install two 150kW chargers at a store in Anaheim.
Locally, the installation of the truck charging infrastructure was handled by Greenlots, a member of the Shell Group and a leader in electric vehicle (EV) charging and energy management solutions. The heavy-duty fleet charging stations are the first of four installations by Greenlots at warehouses across Southern California.
Greenlots installed two fully operational ABB 50kW DC fast chargers at TEC Equipment's Fontana dealership and plans to install an additional 150kW DC fast charger in the next month. All of the charging equipment for the project is connected to Greenlots' SKY EV Charging Network Software, which enables management of Volvo's fleet and charging stations while balancing grid demand.
Balancing the load demand on the electric grid will be increasingly important as more EVs are put on the road. Idine Ghoreishian, Greenlots senior manager, forecasted that 508 million EVs will hit the road by 2040, and the growing number of EVs, he said, will add more than 2,000TWh of electricity demand globally.
Keith Brandis, VTNA vice president of partnerships and solutions, said the truck maker and TEC Equipment worked closely with its partners and the utility company as they planned and built out the charging infrastructure.
Katie Sloan, director of eMobility for Southern California Edison, noted public utilities often provide funding opportunities and incentives toward electrification, and Stenqvist added that electric adoption – at least in the near term – will be dependent on incentives.
Sloan said public utilities can also help with rate analysis for customers to understand the costs associated with electrification, and provide third-party check on vendor claims, as well as review plans for solar and battery storage, among other services.
Sales and service
TEC Equipment will serve as a fully certified maintenance hub for the Volvo VNR Electric project trucks in the South Coast Air Basin. The company will also lease 15 battery-electric Volvo VNR Electric trucks to interested customers for real-world trials as part of the overall project scope, and offer a critical uptime support team for assistance with parts and service on these new electric vehicles.
With fewer mechanical parts, and maintenance needs that to-date are not clearly defined within a duty-cycle, the electric truck represents a fundamental shift in business for truck dealers and their OEMs.
"Our mindset needs to change a little with these products," Pope said. "There are changes and we need to start preparing and changing with this type of product."
Pope said you can expect to see a shift in the way sales and services are approached at the dealership level, "to create the smoothest possible transition into an electric vehicle. What never changes is the relationship with the customer. It's very important to work in close collaboration with the customer."
Dealers and their OEM would likely work with customers to address electric infrastructure needs, taking on a consultive role before the truck order is ever placed.
"On the product side, we have to train our product managers," Pope added. "We have to understand what are we offering on this truck. When it comes time to ordering the truck, and once we're ready for delivery, we have to have new driver training."
Initial sales of the electric VNR will kickoff in California, mostly within the footprint of the LIGHTS project. Inventing a market for electric trucks also means building out an aftermarket support platform for them, and Volvo plans to lean heavily on the training and support programs already in place within its dealer network.
"All of the workshop support tools are already integrated and they already exist," said Jeff Zody, VTNA aftermarket project manager. "All we have to do is put in the new content."
The LIGHTS program, Zody said, will also help refine parts inventory strategies as TEC Equipment learns what parts are most subject to failure and which need to be regularly stocked locally.
Technicians will also need specific training for electric trucks "and safety is the driving influence of this," Zody said.
The workshop manager would be responsible for training technicians and ensuring that all the proper equipment is in place. Lead technicians would handle pulling the unit into the bay and decommissioning the truck. The technician would then perform whatever repair work is needed before the lead technician is recalled to re-commission the truck.
The evolution of technical know-how means the changing of job descriptions and responsibilities in the service bay.
"Your everyday technician is pretty much going to have to start becoming a computer person," said Kenny Melancon, diesel instructor with San Bernardino Valley College.
Melancon, in partnership with TEC Equipment and VTNA, will use the LIGHTS initiative to craft a curriculum for electric truck technicians. San Bernardino Valley College is currently working with high school sophomores, juniors and seniors to familiarize them with terminology on electric vehicles – part of a dual enrollment program where students earn college credits while working on their high school diploma.
"We're not dealing with a 12 volt battery anymore," added John Frala, a professor from Rio Hondo College, which has also developed an electric vehicle curriculum in partnership with TEC Equipment. "We're dealing with, sometimes, up to 800 volts."
Frala says his program is full through January 2021 and is one of only seven certified Tesla training programs in the U.S.
Voorhoeve said TEC Equipment technicians will pass through the training programs at each school.