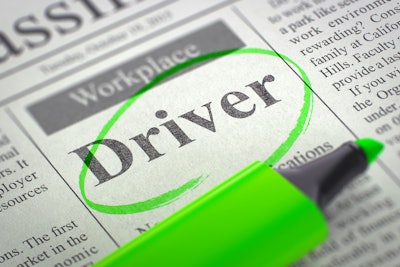 The for-hire trucking industry shed 88,000 jobs last month, according to the Department of Labor's monthly Employment Situation Summary, but May and June appear ready for a bounce-back.
More than 45% of fleets responding to a CCJ survey that measures the coronavirus' impact on motor carriers said they expect to see an increase freight levels over the next 30 days, while only 19% expect to see a decrease – a clear signal that carriers expect to see customers shuttered by stay-at-home orders begin to reopen. Over the course of the pandemic, roughly 80% of survey respondents consistently said freight volume has decreased.
"Seems we have hit bottom and are holding," noted one private carrier respondent with fewer than 25 trucks. "Volume down about 50%."
A for-hire reefer carrier with up to 50 trucks added, "The good freight is there, you just have to work twice as hard to find it."
Freight volumes and rates sank while the pandemic spread, forcing many respondents to reduce driver count (28%) and/or non-driving personnel (22%). However, bolstered by improving conditions and the prospect of brighter days ahead, 38% said they have brought back drivers and another 39% expect to bring drivers back in the next 30 days. Non-driving staff are also climbing back into the workforce, with 30% of carriers saying they have already brought back non-driving employees and another 28% noting they expect to bring them back by the end of June.
Carriers with more than 100 trucks are bringing back drivers faster than their smaller counterparts – 47% vs. 32% – and more than two-and-a-half-times as many large fleets (67% vs. 26%) expect to bring more drivers back by late next month. Smaller carriers hold a slight edge (30% vs. 29%) in having brought back non-driver employees. However, 50% of fleets with 100-plus trucks expect to bring those employees back next month versus just 13% of smaller fleets.
Carriers scored business conditions over the last two weeks (ending May 20) a 4.14, where 1 is the worst week ever and 10 is the best week ever – the highest this score has been since April 13. The group forecast the coming week at 4.76, and 5.53 over the next 30 days.
"Volume is beginning to increase," penned a for-hire refrigerated hauler with up to 50 trucks, "but rates are still dangerously low."
Fewer smaller carriers than large scored the last two weeks as their worst ever, but scored the week overall lower than large fleets – 3.97 vs. 4.49.
Concerned by a possible relapse or second wave of the virus, carriers expect the lingering effects of COVID-19 to have a moderate effect (6.2, where 1 is minimal impact and 10 is significant impact) on day-to-day trucking through the rest of the year, with practically no meaningful difference between Q3 2020 (6.41) and Q4 (6.14).
"I do not believe the country itself has run the full course of COVID," wrote one New York-based carrier. "We got it first and the worst. I believe too many people in this country do not believe they will be as affected as we were and still are."
"Q4 will be better than Q3," added another. "Vaccine changes everything once available."
Just more than half of all respondents (51%) said they had applied for and received a Paycheck Protection Program loan. Only 3% were turned down and 42% said they did not apply.
Rates have consistently been the top concern listed in each of CCJ's seven surveys and respondents to the questionnaire ending May 20 expect that to remain the case, with 68% listing freight pricing as their biggest challenge over the remainder of this year. Finding new business was a distant second at 46% and cash flow rounded out the Top 3 with 40%.
"The truckers not smart enough to say 'no' to low rates are working hard to bring rates to an unprofitable level that will takes months, if not years, to reverse," wrote one carrier.
"The FMCSA failed my industry by allowing freight rates to drop to less than the cost of expense to operate," added another. "Rates dropped below bottom but expense remained the same."