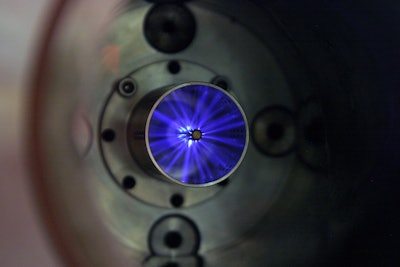 Could diesel particulate filter (DPF) regenerations become a thing of the past? A Southern California startup that is gaining the attention of OEMs believes it's possible.
For the past few years in Torrance, California, Transient Plasma Systems (TPS) quietly has been developing an aftertreatment emissions system for diesels and an ignition system for natural gas and gasoline engines. Both harness the power of low-temperature transient plasma to deliver impressive performance gains.

For diesel applications, the Transient Plasma Emissions Remediation System can reduce NOx up to 80% while cutting diesel particulates up to 85% with no regeneration required, the company said.
"The technology's quite simple, and that's what we see as one of the value propositions for diesel," said Dan Singleton, co-founder and chief executive officer for TPS. "It's like getting a guitar string or wire down the center of the exhaust pipe where we apply our technology, and that's where the plasma is produced."
In addition to zapping harmful emissions, the system increases the flow of exhaust, which equates to greater performance.
"You can look at it as replacing a section of exhaust pipe," Singleton said. "It doesn't have a lot of obstruction. Basically, it would reduce back-pressure compared to what's currently used for particulate removal for a diesel particulate filter. It wouldn't require regeneration in the way that a diesel particulate filter would, which causes both the driver and the companies managing them some problems."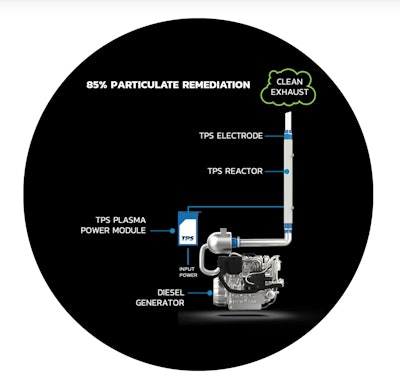 Transient's diesel emissions system consists of a plasma power module, a reactor and an electrode. The system can be altered to render more desired results. The length and diameter of the reactor, along with the number of electrons, can be changed to enable more effective emissions control.
Power requirements for the system are relatively low at less than 300 watts or about 1.6% of engine power. Inspection and maintenance of this high-tech emissions system is designed to be a step up from a conventional DPF.
"When used to reduce diesel particulates, the TPS system is expected to need lower maintenance than current diesel particulate filters, and when the TPS system is used for NOx reduction, it could improve the life of the diesel oxidation catalyst (DOC) by lowering the operating temperature," Singleton said.
While the system has not been road-tested yet, lab results have been promising. A 2.2-liter diesel engine meeting stringent Tier 4 regulations set by the U.S. Environmental Protection Agency was tested with the TPS emissions systems resulting in an 80% reduction of diesel particulates (California Air Resources Board regulations are even more demanding than Tier 4, requiring an 85% reduction) without the need for conventional emissions control devices such as a DPF or a DOC. The results were obtained with only 1.6% of engine power, and TPS believes that its system can meet or exceed CARB particulate emissions requirements for the 2.2-liter diesel engine by optimizing its system.
"Some of the emissions are captured and some are converted into less harmful substances," Singleton said. "It does not completely eliminate all harmful emissions (such as NOx) so you may still need a DOC."
TPS hopes to begin on-road testing of its diesel emissions system next year.
Timing is everything
In the ongoing race to lower emissions and increase fuel economy, TPS is focused on bringing its plasma ignition system to market first, which may mark the beginning of the end for century-old spark plug technology.
A test at Argonne National Laboratory offered exciting results on a Cummins Westport ISX12N natural gas engine.
Jason Sanders, TPS co-founder and chief scientist, called the test "a major milestone in the development of our nanosecond pulsed plasma ignition technology. Our ignition technology reduces fuel consumption in combustion engines by a significant amount, and it can do so with an easy-to-implement solution that requires no engine redesigns."

In a statement to CCJ, Cummins reported that "the technology is also expected to reduce the electrode wear of traditional spark systems, leading to reduced maintenance costs associated with spark plug changes.
"Cummins continues to follow the progress of various U.S. Department of Energy funded TPS projects to advance the technology and address existing challenges specific to high BMEP spark-ignited engines," the statement continued.
Retrofitting an engine is relatively easy, Singleton said. Spark plugs are swapped out with more-thorough-burning plasma plugs, each of which is connected to an ignition module that is wired to a power supply controlled by the electronic control unit (ECU). The engine is tuned to maximize performance beyond the limits of what conventional spark plugs can deliver during combustion.
"The same ignition technology that's been around for so long is at its limit for how dilute a mixture you can ignite," Singleton said. "Cummins Westport uses exhaust gas recirculation (EGR) to get emissions down and improve efficiency, but we can extend how much EGR you can add in that engine beyond the limits of traditional spark ignition. That's where we get the efficiency gains and the emissions gains."
As more exhaust gases are consumed during combustion, emissions improve along with fuel economy.
According to TPS, the technology has proven itself in over two dozen tests with several OEMs. In addition to trials at Argonne, the system also has been tested at Sandia National Laboratories.
Tests reveal that the plasma plugs enable a higher compression ratio, an increased specific heat ratio, faster combustion, improved combustion timing, increased knocking resistance, reduced heat-transfer losses and reduced pumping losses. All these attributes add up to lower emissions, increased fuel economy and more power.
But as promising as TPS plasma ignition technology might be for all spark-ignited engines, it's being marketed initially for natural gas engines in heavy-duty trucks. Engines such as the ISX12N are used in Class 8 trucks, so system durability is not a concern.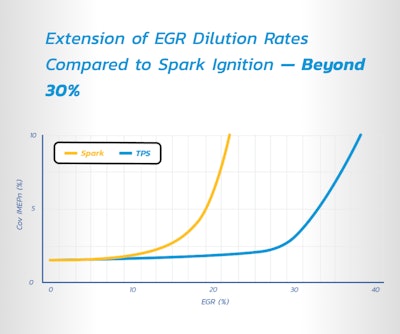 "We have been doing some highly accelerated lifetime testing to try and point out any potential flaws in the technology," Singleton said. "It is based on solid-state electronics that are extremely reliable. We expect to do well there. That's kind of why we've been focused on the heavy-duty gas side, because we feel that if it's validated there in that tough environment, then it's a much more comfortable concept for the gasoline OEMs to adopt. We don't expect any major hurdles there."
As fleet interest continues to grow in all-electric and fuel-cell trucks, TPS has taken the position that those interesting alternatives are not quite ready for prime time.
"Like everyone else, we're excited about electric, too," Singleton said. "I'm an engineer by training, but I'm always very practical about what can be done, and as exciting as electric is, there just isn't a direct path to ubiquitous EVs. It's just not going to happen that quickly. Most realistic forecasts say that even by 2030, the adoption rates aren't even going to be that high. We're only 2% EVs today.
"Look how long it took hybrids to take up a larger market share, and that's a much simpler and easier technology to adopt that doesn't require new infrastructure or anything like that," Singleton continued. "In the meantime, we're polluting much more than we need with both CO2 and NOx emissions, so we really need a next evolutionary step before ubiquitous EVs. That's where we see this technology coming into play. We know it works. We're in the process of showing that it can be in a commercial form faster and available as a solution now to get those emissions down and also get the fuel economy improved for the consumer."
Getting to know transient plasma
A plasma cutting table demo'd by MaverickCNC at SEMA in 2018 drew quite a crowd. People were mesmerized by the automated cutter as it carefully moved extremely hot, electrically ionized gas to slice through a slab of metal.
It's also pretty mesmerizing to watch Transient's plug in their demo video though it uses a different and literally much cooler type of plasma. Transient plasma gets its name from its state of energy. Plasma is controlled through extremely short and intense pulses to the point that it's not permitted to become hot and destructive. Hence it's kept in a transient state where it can be utilized for combustion and emissions control.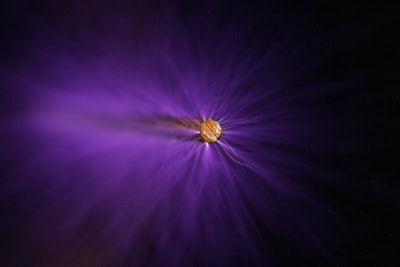 "Transient plasma systems eliminate the risks of arcing and thermal instability, enabling versatile operation over a wide range of pulse amplitudes, pulse repetition rates and gas flow rates," Transient reports on its website.
Watching a Transient plasma plug at work is akin to watching a souped-up and highly refined Tesla coil. Tiny, purple threads of plasma can be seen radiating all around the center electrode to ground.
But unlike a Tesla coil, their paths don't appear to vary and instead travel laser-like from center electrode to ground. Transient explains on their website some of the technology behind this light show: "Nanosecond Pulsed Power Plasma (N3P) technology used incredibly fast and precisely controlled bursts of plasma that create high peak power greater than 4 locomotives with low energy pulses 3,000 times faster than a bolt of lightning."
Neither the ignition or emissions systems produced by TPS require any additional power outside of a vehicle's normal 12-volt system. The systems also do not require any changes to engine architecture.