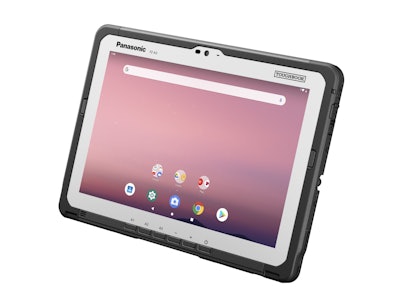 Fleets of all types have been migrating to Android devices for in-cab and mobile computing needs since the electronic logging device (ELD) mandate brought new competition to the market.
The ELD mandate intersected with Microsoft exiting the market and discontinuing support for its Windows CE and Windows Mobile, once the industry standard for enterprise use.
As the market leader for rugged handhelds, tablets and laptops, Panasonic Systems Solutions Company of North America is fully onboard the Android bandwagon.
Like other hardware suppliers with a long history in mobile computing — 30 years in Panasonic's case — the company still has thousands of Windows Mobile devices in the field but is now giving its customers a big incentive to upgrade to the latest Android products.
A new Toughbook flagship
Panasonic released Wednesday a new Toughbook A3 10.1-inch tablet as its flagship to lead customers through a transition from Windows and previous generations of Android devices.
Like other Toughbook products, the A3 is designed to be the longest-lasting mobile device of its kind in the market. The new device is built for enterprise customers and has Google's "Android Enterprise Recommended" seal of approval.
With the A3 device, Panasonic now has two handhelds and two tablets in its Toughbook line of rugged Android mobile devices.
Toughbook A3 – 10.1-inch Tablet
Toughbook L1 – 7-inch Tablet
Toughbook T1 – 5-inch Handheld
Toughbook N1 – 4.7-inch Handheld
Some of the features the Toughbook A3 shares with other products in the Android lineup are an outdoor viewable LCD screen with 800 nits of brightness, and a rain mode that knows the difference between a finger and a raindrop hitting the screen – a feature exclusive to Panasonic devices.
It meets the military IP65 standard, meaning it is built to withstand a 6-foot drop on plywood and a 5-foot drop on concrete.
Unique to the A3 is two user-replaceable hot swap batteries that allow for two full shifts of battery life for workers. It has many different configuration options that include a barcode reader, additional USB slots and more.
For wireless connectivity, the Toughbook A3 has near-field communications (NFC), Wi-Fi, Bluetooth and 4GLTE cellular.
The platform has five user-defined buttons along the frame to perform functions such as scanning barcodes, taking pictures and perform functions with software applications loaded on the device.
Software support
As Panasonic was developing the A3, Product Manager Joseph Valenti sad the feedback the company received from end users, IT departments and CEOs of fleet customers revolved around three must-have features: security, reliable hardware and services and support.
The company addressed all three with the launch of A3. Services and support are delivered through a new platform called Productivity+.
Productivity+ offers customers a turnkey solution with hardware, software and professional services, including support from a partner network of Android applications for upgrades, patch support and mobile device management.
The support partner network is also comprised of independent software vendors that have been specifically selected for their industry expertise – such as Omnitracs for transportation and logistics – to meet customers' needs.
Panasonic Toughbook devices are designed for 10 years of usable life. Some of its customers use them for that long, but fleets in transportation and logistics – like food service and direct store delivery – typically use the devices for between three and five years, Valenti said.
After that period, fleets will often sell devices in secondary markets to companies who will continue to use them for the remainder of their life.
Panasonic also offers trade ins and is currently offering $500 to customers who trade in older tablets to upgrade to the $2,699 A3.