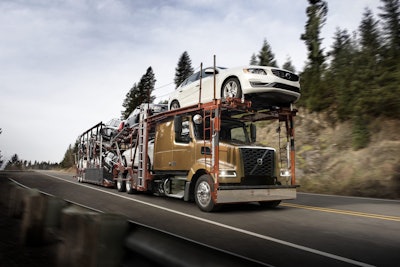 Trucking news and briefs for Friday, June 26, 2020:
Navistar breaks ground on new San Antonio plant
Navistar held a virtual groundbreaking ceremony Thursday to celebrate the construction of the company's new manufacturing facility in San Antonio, Texas.
Located near Interstate 35, off U.S. Highway 281 and the frontage road connecting to Mitchell Lake Trailhead, the new 900,000 square-foot plant will have the capacity to produce Class 6-8 vehicles. Vehicle production at the facility is scheduled to begin early 2022, bringing more than 600 jobs to the San Antonio area.
"This groundbreaking ceremony marks a milestone for us in the development of our new state-of-the-art manufacturing facility," said Troy A. Clarke, Navistar chairman, president and CEO. "We are excited to become part of the San Antonio community and we're confident this facility will reinforce Navistar's gains in the marketplace."
Volvo redesigns VAH model for maximum payload, modern look
Volvo Trucks this week unveiled its new Volvo Auto Hauler model, which completes the design overhaul of the entire Volvo Trucks North America portfolio.
The updated VAH models are now available to order. The redesigned VAH features deep-drop front axles, low-height Volvo Air Ride rear suspension and industry-exclusive reduced-height cab options to create a lower overall roof height for larger passenger vehicles.
"Volvo Trucks is proud to roll out the most advanced auto hauler model in the trucking industry," said Andy Hanson, product marketing manager, VTNA. "Behind the new, updated look are significant engineering innovations utilized in the other models in our impressive product portfolio. We're excited to introduce this new VAH model, designed with Volvo Trucks' core focus on safety, productivity and comfort for drivers."
The models feature an updated Volvo Active Driver Assist collision-avoidance system, which features radar and automatic braking technology.
The new VAH will come in three variations offered through Fontaine Modification:
The VAH 300 day dab offers 11-vehicle capacity and a tight turning radius with a 113.6-inch BBC, available with 94.5- or 97.5-inch roof height.
The VAH 400 sleeper includes a 42-inch interior cab height. Along with maximum payload capacity, agility and driver amenities, the 400 offers a 145.6-inch BBC and can be ordered with a 97.5- or 102.5-inch roof height.
The VAH 600 sleeper offers a cab height of 61 inches and features a 36-inch wide mattress, ample storage space and refrigerator capacity. It has a 164.1-inch BBC and is available with a 97.5- or 102.5-inch roof height.
Georgia CDL examiner, owner of Alabama CDL school get probation, fines for CDL scheme
A Georgia CDL examiner and the owner of an Alabama CDL school have both been sentenced to probation and fined for their roles in a CDL testing scheme, according to the DOT's Office of Inspector General.
Michael Jordan was a third-party CDL examiner who operated in Columbus, Georgia, and James Welburn was the owner and president of American Truck Driving Academy in Opelika, Alabama. Jordan was sentenced to 36 months of probation, a $10,250 fine, a $100 special assessment and 100 hours of community service. Welburn received 60 months of probation, a $250,000 fine and a $100 special assessment.
Both men previously pleaded guilty to charges related to an investigation that found that in exchange for cash payments from Welburn, Jordan falsified CDL exams for ATDA students.
Arizona expands use of weigh-in-motion tech
The Arizona Department of Transportation has expanded its use of technology that screens moving trucks for weight and identifying information. The state had been using the tech at select rest areas, including McGuireville on I-17, Sacaton on I-10 and Canoa Ranch on I-19. It is now being used at all of the state's commercial ports of entry along I-10, I-40 and State Route 95 in Parker.
"This truck screening system will allow our officers to focus on the commercial vehicles that need our officers' attention," said Jeff Stanhope, deputy director for ADOT's Enforcement and Compliance Division. "It helps us make better use of our resources and efforts while allowing trucks in compliance to go on their way."
The technology uses weigh-in-motion sensors, cameras that read USDOT numbers and license plates, and message signs. An additional feature at the Ehrenberg and San Simon ports of entry on I-10 also identifies commercial vehicles with tires that could be damaged or in need of repair.
As a truck approaches a port of entry, highway signs direct the driver into the right lane. When the truck is a half mile from the port, the weigh-in-motion sensors and cameras capture the vehicle's weight and identifying information and relay it to ADOT Enforcement and Compliance officers at the port. A computer checks the truck's credentials against national and state databases, and if the truck is cleared and within weight limits, the message boards along the highway give the truck a bypass signal. If there is an issue identified with the truck, such as expired registration, federal out-of-service orders or required permits not on file, the signs direct the driver to pull into the port for further inspection.