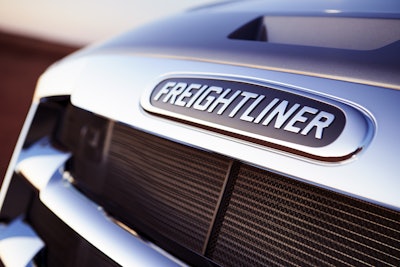 Daimler Trucks North America (DTNA) told its dealers last week that it plans to reshape into a segment-specific structure the product strategy, and sales and marketing teams for Freightliner and Western Star.
Under the re-alignment, which will take place through the rest of the year, Richard Howard, senior vice president of sales and marketing, will lead DTNA's portfolio of on-highway trucks as the senior vice president of on-highway sales and marketing. Western Star President David Carson will transition to the role of senior vice president of vocational sales and marketing and be responsible for all of DTNA's vocational trucks.
In its re-tooling of personnel, DTNA is seeking to put product experts in the specific segments – on-highway and vocational – under the same umbrella versus splitting them into two teams with similar responsibilities divided by the two individual brands.
"Looking at the customer experience," Carson said, "the most important opportunity for us is to increase our focus. We also want to leverage our expertise and knowledge that we have built in our organization."
"We love both our brands equally, and now you will see us put equal support behind both brands," said DTNA President and CEO Roger Nielsen, adding both brands – and both applications – are wildly important parts of DTNA. "There are just as many on-highway customers as there are vocational customers."
Consolidating expertise by segment not only gives dealers a singular point of contact, it also ensures and deepens their level of technical knowledge for the products offered in their segments as "trucks will get even more complex as we go forward," Nielsen said.
The two brands have been operated alongside one another since DTNA purchased Western Star in 2001, yet their go-to-market strategies remained independent. A shift to a segment-driven strategy is not only a departure from DTNA's prior way of doing business for the last two decades, it differs significantly from other OEMs like Paccar and Volvo Trucks North America, who each also sell and service multiple nameplates in on-highway and vocational segments.
"This is a very significant strategic change for us," Carson said.
"The structure of the past served us well," Howard said, adding that in order to drive growth, that strategy needed to change. "This structure, aligned with our dealer network, will give us a competitive advantage."
The on-highway sales team will include Drew Backeberg, who assumes the newly created position of vice president of on-highway sales. An 18-year veteran of DTNA, Backeberg will lead the dealer sales business for on-highway products, including Freightliner's Cascadia, the Western Star 5700 and certain M2 applications. Brian Cota will continue to lead the national accounts team.
Peter Arrigoni has been promoted to the new position of vice president of vocational sales. Arrigoni's vocational team will have a structure that includes three regions in the U.S. and a matrixed reporting structure for Canada. The vocational field sales team is responsible for the entire DTNA vocational product line including the Western Star 4700, 4800, 4900 and 6900, and the Freightliner EconicSD, 108SD, 114SD, 122SD and the M2 for vocational applications. Richard Saward will lead the vocational national accounts team as vice president of vocational national accounts. He and his team will continue to support truck equipment manufacturers.
Kary Schaefer will lead the marketing and product strategy teams for both the on-highway and vocational segments for Freightliner, Western Star and Detroit. Reporting to Schaefer, Samantha Parlier, as vice president of vocational market development, will assume responsibility for the vocational lines of both Freightliner and Western Star while Kelly Gedert, as vice president of on-highway market development, will assume responsibility for the on-highway products of both brands along with market development responsibility for Detroit.
DTNA Senior Vice President of Aftermarket Stefan Kurschner said consolidating and integrating the segments aids DTNA in its push to get customers back on the road for most service issues within a day or less by putting "the collective resources of DTNA at the disposal of all of our customers. Our target is the 24-hour maximum turnaround and we are working to achieve that, whether our customers are running on- highway or off-pavement and whether they're operating a Freightliner or a Western Star."
The next step in DTNA's quest for less than a day of customer downtime will debut in April. Excelerator, an online parts ordering platform, connects the customer to all dealer management systems in its network, improving available inventory, logistics transparency and delivery options. DTNA's parts distribution network enables 12-hour delivery for 90% of DTNA customers.