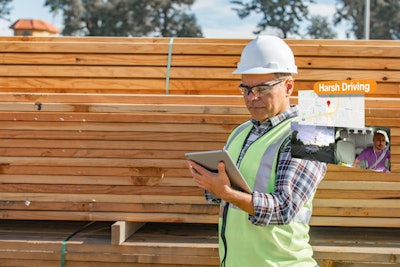 Greater visibility does not come from more data. In fact, this is the opposite of what helps executives and managers improve driver safety, asset utilization, load margins and other areas of business.
Some of the most useful visibility tools give users real-time information to make in-the-moment decisions to positively change business outcomes. With the high cost of fuel, personnel and other transportation expenses, any errors that are not detected and immediately corrected can be quite costly.
Many of the technology products announced during the past week have a common focus on visibility to three important areas of transportation management.
1. Driver safety
On the safety front, Verizon Connect launched an inward, driver-facing dashcam as an option for its Integrated Video for Reveal platform that already has a road-facing camera.
The dual video platform brings together video, telematics, and artificial intelligence (AI) to better understand the details of specific driving events.
Notifications are sent to users within minutes of harsh driving events on desktop and mobile devices for review and download. The driver-facing video can be reviewed alongside road-facing footage in Reveal's event log.
"Fleet managers want context around the moments leading up to harsh driving events like harsh braking and hard cornering to help protect themselves against false claims and coach drivers accordingly," said Erin Cave, director of product management at Verizon Connect.
2. Trailer and cargo visibility
As state and federal laws for diesel emissions continue to evolve, the transportation industry is looking for solutions to reduce, if not altogether eliminate, fossil fuels. CARB laws in California, for example, will eventually require fleets to eliminate all diesel emissions.
Cooltrax, a cold-chain trailer telematics provider, has integrated its platform with the All-Electric transport refrigeration unit (TRU) from Phoenix-based Advanced Energy Machines. The integration gives fleets real-time visibility of temperatures and related operating information.
Through the Cooltrax platform, fleets have telemetry and exception management for battery levels, power state, compartment temperatures, door events and more.
"As you can imagine," said Robert Koelsch, founding partner of AEM, "moving from the old reliable diesel engine to electric brings some pause. Fleets can be assured that their TRUs are charged and performing as good or better than the old diesel units from the integration of our technology with the Cooltrax Fresh IoT platform."
AEM is the frontrunner in electrification of refrigerated trailers. The company says its solar-powered TRU leverages proprietary technologies to deliver ample charging hours to support the needs of fleets with demanding requirements, such as food and beverage distributors, that deliver perishable products on multi-stop truck routes.
"Cooltrax has existing customers that actively manage their fleets today with telemetry and temperature data, and these same early adopters are placing orders for our electric units," he said.
LTL Freight management software provider Carrier Logistics Inc. (CLI), developed new features for its Dock Management Board that it says improve visibility for freight, worker productivity, and loading accuracy. The enhancements support dynamic routing and photo capture as well as integrations with pallet dimensioning solutions.
CLI's Dock Management Board includes a graphical display that shows the loaded, unloaded and in-progress status of trailers, with icons showing potential operational issues. Clicking on a trailer icon brings up detailed load and shipment information, with drill-downs all the way to the Bill of Lading.
"The Dock Management Board provides full visibility of trailer activity at each service center, with a drill-down capability to view inbound and outbound LTL freight in real time," said Ben Wiesen, president of CLI.
The CLI Dock Management Board runs as a mobile application on any Android-based device to manage and record dock activities. Further development plans include a yard check feature for tracking the location and status of trailers at facilities that are not currently assigned to a dock door.
3. Freight pricing
Cargo Chief released LaneMaster, a real-time full truckload (FTL) rating engine that gathers true freight pricing data through a consortium of transportation management software (TMS) and technology providers.
"LaneMaster helps 3PLs grow their margins and speed rate negotiations with carriers by setting realistic pricing targets using the most current, accurate and relevant rate data in the industry," said Russell Jones, CEO of Cargo Chief.
LaneMaster's consortium model gathers anonymous FTL rate data the moment that loads are booked. The pricing data is updated instantly from thousands of daily transactions to include origins, destinations, mileages, trailer types, pick-up dates, and rate details.
"I've used the other rating tools out there, but LaneMaster has met market accuracy time and time again, winning us more opportunities," said Patrick Carroll, director of operations pricing for RoadOne LogisticSolutions, a Tampa, Fla.-based provider of end-to-end drayage brokerage and related logistics services.
LaneMaster has a sophisticated data cleansing process and uses an exclusive algorithm developed by experienced PhD data scientists to ensure quality and consistency in FTL rating, according to the announcement.
The algorithm updates the secure LaneMaster rate database by using modern APIs that integrate with TMS systems to capture rate details from actual freight transactions, not from "teaser" rates posted in load boards.
Technology providers who have or will be integrating with LaneMaster include: AscendTMS, BrokerPro TMS, ePay Processor, Freightgate TMS, HubTek, LoadStop TMS, Navigator TMS, SwanLeap TMS and Cargo Chief's C4.