Last fall, GSC Logistics in Oakland, California, made truck history after driving a loaded container up the Altamont Pass through the Diablo Mountain Range with an electric BYD 8TT.
It was a roughly 50-mile trip along an 8% grade from the Port of Oakland to Tracy, California, that took GSC to the all-important Central Valley near Interstate 5, a major trucking hub where GSC has several customers.
On Oct. 22, 2019 the truck held steady at 55mph as it climbed roughly 1,000 feet to Tracy to deliver a load and pick up another to take back to port. The truck had a 40% state of charge remaining when it returned to Oakland.
"We're the first ones to take that electric truck and get it up over that pass and get it back so it's pretty exciting," said Brandon Taylor, GSC Logistics director of transportation. "And now we're doing it a couple times a week up and over that range."
The 8TT now makes other stops in the Central Valley in truck-minded cities like Stockton, Manteka and Modesto which adds up to a roughly 150-mile round trip.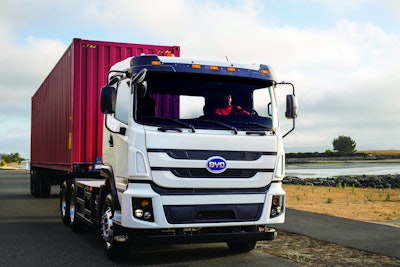 But progress like that didn't come overnight. GSC's first BYD 8TT, which arrived in 2018, wasn't quite ready for prime time. The tractor needed some fifth wheel adjustments to handle the ongoing coupling and decoupling at the port. Plus, it had trouble handling the incline on the highway.
"The phase one tractor was really a prototype so we kind of helped BYD along," Taylor said. "We took it out as a prototype and kind of worked with them on what improvements were needed especially for port operation."
After learning a few lessons with some help from GSC, BYD delivered two phase two 8TT trucks in mid 2019.
"We noticed a difference right away that it had the torque to take on inclines with loaded containers right off the bat," Taylor said. "We said, 'Let's put it to the test.' And sure enough it goes up and over the Diablo range."
However, highway trips mean sacrificing payload because of battery weight.
"You're sacrificing about 10,000 pounds of cargo," Taylor said of highway driving. "The port has an overweight corridor so we're allowed to haul 95,000 pounds at the port so it's not a big deal.
"We really focus on keeping the tractors at the port," Taylor continued. "They do more or less intraport, interport shuttles, in and out of the ocean terminals."
Changes to on-highway truck weight limits in California would have to reach 90,000 to 95,000 pounds "in order for these electric trucks to haul 40 to 44,000 lbs. of cargo," Taylor said. "We're already restricted right now with the tractors we have."