Penske Truck Leasing made headlines at the Advanced Clean Transportation Expo in Long Beach, Calif. in April of 2019 when it unveiled what's believed to be the first heavy-duty electric charging stations in the U.S. Fourteen high-speed chargers were opened across four of its facilities in Southern California.
Electric trucks followed including Freightliner's Class 8 on-highway eCascadia and their medium duty box truck eM2 106. Penske's partnership with Freightliner's parent company Daimler Trucks North America brought the companies together in 2018 to test and improve electric trucks in real world conditions. Daimler's Innovation Fleet provided Penske with 10 eCascadias and 10 eM2s. So how have the trucks been performing?
"The best way to answer that is that it's giving us the information we hoped to get," said Paul Rosa, senior vice president of procurement and fleet planning at Penske Truck Leasing. "To say that they're doing great is not a fair statement. To say that they're doing poor, depending on how you look at it, is not a fair statement."
Data is king when rolling out new technology, particularly for Class 8 electric trucks that are encountering plenty of challenges on the road.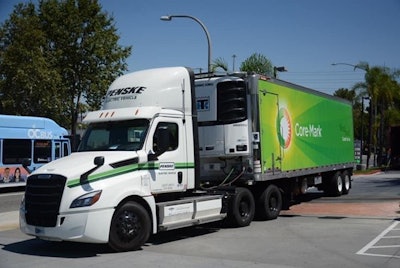 "It's giving us the information that we needed to know from the learning side," Rosa continued. "What should we be thinking about for production units? What are the opportunities to help with the redesign of generation two? What has to happen from all the routing of the high-voltage cabling? What do you have to do for this that might be rubbing against each other when it's going across six years of life? Those are learnings, upon learnings, upon learnings that we're going through. I'd say it's been a huge success as a result of that."
On Freightliner's website, the eCascadia is listed as a short-haul, last-mile logistics truck with a 250-mile range and an 80,000-lb. gross vehicle weight. It can charge up to 80% capacity in roughly 90 minutes which provides about 200 miles of range. Charge times vary depending on the charger used.
"These are short in nature so it's a lot of pickup and delivery," Rosa said. "Of course, even in a short distance pickup and delivery application, you could have a pretty substantial load, what would be a max-out for a tandem tractor-trailer. But we found the right fit for each of the customers that are interested in participating in what we're calling the learning project."
One of Penske's leasing partners, Core-Mark, ­is hauling between 13,000 and 18,000 pounds of food and beverages in an eCascadia four days a week in the L.A. area. The truck runs roughly 130 miles four days a week with 10 to 12 daily stops.
That kind of duty cycle is well within the truck's capability. Going beyond regional hauling at this point would come at too high a price.
"A tractor can go 500 miles but you're going to have so many batteries in it that you're not going to have the payload that you want," Rosa said. "It's a trade-off. Then you get into the cost of the batteries in today's world is so substantial that you can't go with too many more batteries to get extra range because it just doesn't make sense. You've got the cost so high and the payload so low, you can't even make sense of the vehicle.
"As those things start to come in line—we're calling it the battery solution—when that battery solution comes into play, the cost per kilowatt hour, the size, the weight, the density, there's going to be that flashpoint," Rosa continued.