Trucking news and briefs for Thursday, Nov. 12, 2020:
Daimler establishes new group focused on vehicle connectivity
Daimler Truck AG announced it has established the new Connectivity Solutions Group (CSG) global division to develop vehicle connectivity systems and digital services for customers.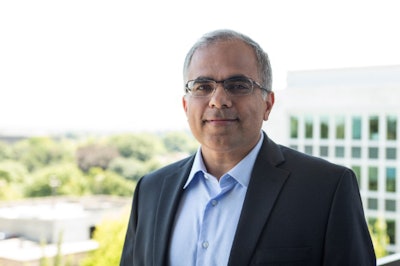 CSG will be based at Daimler Trucks North America headquarters in Portland and will be led by Sanjiv Khurana, who currently heads DTNA's Digital Vehicle Solutions.
"Connectivity has proven to be a huge asset to improving our customers' profitability around the world," Khurana said. "Daimler has led the industry in developing these solutions and the formation of CSG positions us to continue to help our customers maximize the profitability that can be achieved through data-driven insights."
The group will focus on uniting the company's end-to-end digital architecture, including in-vehicle software, cloud platforms and digital solutions. Daimler already has a strong portfolio of connectivity services, including Detroit Connect, Truckonnect, Mercedes-Benz Uptime, Fleetboard and Omniplus ON. The products and services that are developed by CSG will be easily adaptable across Daimler's brands worldwide.
Partnerships with in-vehicle and Internet of Things technology providers will also fall under the CSG purview at Daimler Trucks, including the company's work with Platform Science which will leverage Platform Science's transportation specific Mobile Device Management solution, Remote Platform Management (RPM), beginning in 2021.
Two Daseke fleets complete merger
Hornady Transportation has announced its operational merger with Builder's Transportation Company went into effect Oct. 1.
Both companies are part of Daseke, Inc., of Addison, Texas, the largest owner of flatbed, open-deck and specialty trucking capacity in North America. The merger was announced by Daseke in August of 2019 as part of a company-wide operational plan.
Headquartered in Monroeville, Alabama, Hornady has been in operation since 1925. Its terminal in Birmingham, Alabama supports the building materials and steel industries east of the Rockies with the merger resulting in a second terminal in Memphis, Tennessee. The company said its merger with BTC's operations has enabled Hornady to further diversify its freight mix and double in size while strengthening its service to the building materials, steel, oil and gas industries with a fleet of 406 late-model tractors and 605 flatbed trailers.
"The merger goes beyond numbers," said Chris Hornady, CEO. "We're bringing together two innovative organizations who have a shared vision and trust in one another. We look forward to the positive changes to come and value our team members' support in this transition."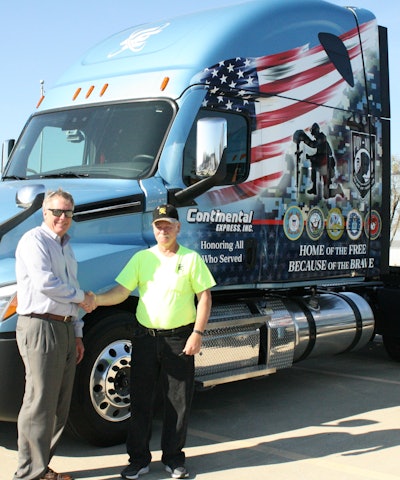 Continental Express unveils latest 'Fleet of Heroes' military-themed rig
Sidney, Ohio-based Continental Express introduced a new military-themed truck just before Veteran's Day, and said it has "dedicated the truck to its veteran drivers and to all of those who are serving or have served our country."
The new military-themed truck will be part of Continental Express's Fleet of Heroes, which are three special trucks, two of which honor military personnel and one pink truck honoring breast cancer survivors. Continental revealed its first military truck two years ago.
The wrap on the new 2021 Freightliner displays the American flag, the POW/MIA emblem, the five branches of the military, and the phrase "Home of the Free, Because of the Brave."  The truck is also numbered "911," which coincidentally fell in-line with the numbering of the remainder of Continental's fleet.
It is driven by Rick Brown, who served in the Air Force and has been an over-the-road driver for Continental for the past seven years. Brown is also a driver trainer for the company.
The truck that was released two years ago is being driven Frank Larger, who served in the Army. Larger has been an OTR driver for Continental for 20 years.
The military-themed trucks are a small way Continental Express is able to say "thank you" to its veteran drivers and to all the nation's military, according to a statement from the company.