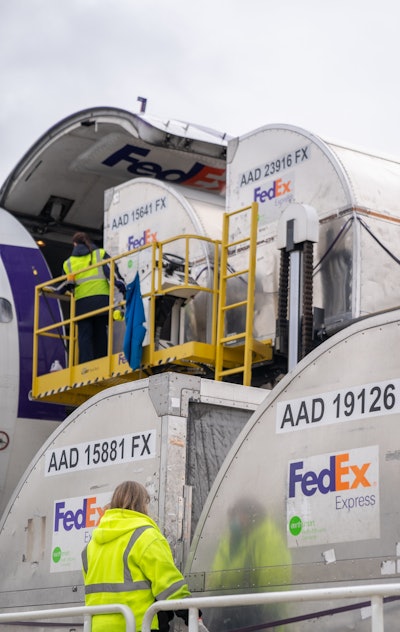 Moderna's COVID-19 treatment received an Emergency Use Authorization from the Food and Drug Administration late Friday, just in time for the kickoff a second wave of vaccine distribution that will be nearly three times as large as the initial wave last week. Operation Warp Speed has allocated more than 5.9 million doses of the vaccine for jurisdictions to receive in the coming week.
Warp Speed last week, with the help of UPS, FedEx, Boyle Transportation, CRST and others, delivered the first 2.9 million doses of the Pfizer vaccine to every U.S. state and territory. United States Army Gen. Gus Perna – the chief operating officer of the effort – called it "a remarkable feat" done in spite of snowstorms and the holiday rush. "We should all be proud of what has happened," Perna said.
"This week in total, between Pfizer and Moderna, we have allocated 7.9 million doses of vaccine and we are ready for that distribution," he added. "We will ship simultaneously to all 64 jurisdictions and five federal entities. Jurisdictions have already ordered the vaccine and we know it is going to 3,700-plus locations. With more requests coming in every day based on allocations."
Drug distributor McKesson Corp. started picking up doses of the Moderna vaccine from manufacturing sites Saturday and many deliveries taking place Sunday.
UPS (CCJ Top 250, No. 1) and FedEx (No. 2) continue their involvement with COVID-19 vaccine delivery efforts through a partnership with McKesson, the centralized distributor for non-ultra-frozen COVID-19 vaccines and ancillary supply kits.
"This is a historic logistics feat and UPS Healthcare is honored to play a role in this effort," said Wes Wheeler, president of UPS Healthcare.
FedEx is set to begin vaccine shipments throughout Canada as early as this week and is also preparing to begin delivering vaccines to other countries.
"The shipment of vaccines to help end the COVID-19 pandemic is among the most important work in the history of FedEx, and our team is focused on the safe and efficient delivery of these critical shipments," said Raj Subramaniam, president and chief operating officer, FedEx Corp. "As we have said since the onset of the pandemic and our relief efforts, this is who we are and what we do."
Perna expects to deliver 20 million doses of the vaccine by the end of the month.