Trucking news and briefs for Friday, May 21, 2021:
Plan ahead for increased Memorial Day cargo theft activity
Cargo theft recording firm CargoNet says it expects a "significant threat" to freight transportation this upcoming Memorial Day weekend.
The firm reviewed data from 2016 to 2020 for the Thursday prior to Memorial Day to the Wednesday after. There were 143 events reported with an average of 29 events per year.
Additionally, activity for the 2020 Memorial Day weekend increased 35% from the same weekend in 2019. The stolen cargo in each event was worth an average of $308,308 – due in part to five thefts that exceeded $1 million in stolen goods.
CargoNet says 20% of recorded thefts occurred on Friday, and a significant number of thefts also occurred on Sunday (16%) and Monday (15%).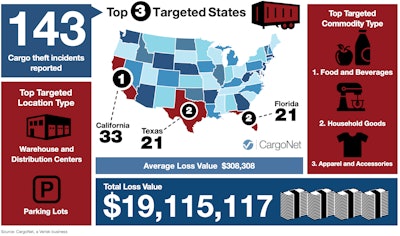 Food and beverage items were the most commonly stolen, and cargo thieves targeted a wide range of products in this category. The most common were alcoholic beverages, seafood products, and meat products. Electronics were not a significant target in previous years, but CargoNet's analysts "are near certain that these goods will be targeted this upcoming holiday."
Of note, CargoNet has seen an "extreme risk" in transporting computer electronics shipments through California. Theft of these shipments increased 443% between September 2020 and May 2021 from the same period the previous year, the firm noted. On average, each shipment of computer electronics was worth $856,993 per full truckload theft and $246,566 per partial truckload theft.
CargoNet suggests those in the supply chain can mitigate theft of these shipments by arranging for same-day delivery of short-haul shipments, embedding covert tracking devices in the shipments, and using high-security locks to prevent trailer burglaries. Additionally, drivers should adhere to the "red zone" rule and avoid stopping within 250 miles of pickup. Drivers should also be on the lookout for any vehicles that appear to be following them.
Some noteworthy thefts from previous Memorial Day weekends include:
$5,700,000 in jewelry from a warehouse in Walton, Kentucky
$3,974,370 in pharmaceuticals in Clermont, Florida
$2,920,000 in cell phone accessories in Memphis, Tennessee (recovered)
$1,500,000 in tablets from a warehouse in Wilmington, Delaware
$1,200,000 in seafood from the port in Elizabeth, New Jersey (recovered) 
Averitt raises employee pay
As part of its 50th anniversary celebration in 2021, Averitt Express (CCJ Top 250, No. 28) recently announced pay enhancements for associates at its 85 LTL service centers.
All associates at the company's LTL service centers, including CDL-A local city drivers, shuttle drivers, team shuttle drivers, CDL-A qualified dock associates, non-driving dock associates, diesel mechanics, freight clerks and administrative associates, received increases.
Additionally, Averitt is offering a referral program that pays up to $3,750 for the hiring of a referred candidate, and a rewards program that incentivizes positive actions such as achieving operational goals and safe-driving milestones.
Free diesel tech webinar this afternoon
The National Institute for Automotive Service Excellence (ASE) is hosting a free webinar for service technicians Friday, May 21, at 4 p.m. Eastern. The focus of the session will be "Collision Repair for Commercial Heavy-Duty Vehicles."
Although a truck operates in a similar way as an automobile, the truck's size often requires larger repair equipment and larger repair space. During this session, John Spoto with 3M will show the similarities and differences on how a truck is repaired. Those who may not be able to attend are encouraged to register so they receive a follow-up email with details on how to attend a recorded session, if available. After registering, a confirmation email will be sent containing information about joining the webinar.