Trucking news and briefs for Wednesday, Jan. 19, 2022:
Schneider closing Canadian operations
Schneider National (CCJ Top 250, No. 8) announced last week it is closing its operations in Canada and relocating its equipment there to the U.S.
The Green Bay, Wisconsin-based fleet is closing its facility in Guelph, Ontario, Canada. In a statement, the company said its Canadian operations "do not fit within Schneider's long-term strategic focus."
The company said it expects to be out of Canada by the end of March.
"This decision was difficult," the company said in a statement. "The change will affect all 150 Canadian-based associates and drivers. We are working with associates during the transition. Company trucks and equipment will transfer to our U.S.-based network to continue to serve our customers and as we proceed with the sale of the Guelph, Ontario property. We expect Schneider will no longer have Canadian-based operations by the end of March. We have notified all our Canadian associates and will remain in regular communication with them over the coming months."
Earlier this month, Schneider announced the acquisition of Midwest Logistics Services, which operates some 900 tractors at 30 locations across the central U.S.
Mack mDrive now available with left and right dual PTO option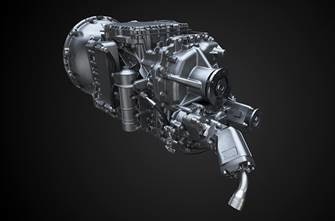 Mack Trucks announced that the Mack mDrive automated manual transmission (AMT) now features a left and right dual Power Takeoff (PTO) option for highway and vocational customers, offering increased versatility for customers and bodybuilders.
Available for customers with Mack Granite, Mack Anthem and Mack Pinnacle models with 12-speed, 13-speed and 14-speed Mack proprietary mDrive AMTs, the premium option offers cleaner routing to frame- and body-mounted equipment.
"The left and right dual PTO allows drivers to run their hydraulic pump equipment on both sides of the vehicle, improving the ease of use on jobsites and maximizing flexibility for applications requiring the operation of multiple PTOs," said Tim Wrinkle, Mack construction product manager. "This also increases functionality for customers."
Ideal for both dry and wet bulk applications, the dual PTO is available with clutched adapters with DIN-mounted or SAE flange connections. Both the left and right dual PTO ports rotate counterclockwise, and the adapters are interchangeable and easily adjusted in the field.
The dash switches work independently of each other through an air solenoid, so both PTOs do not have to be on for one to work. The dual PTO is also available with up to two direct-mount hydraulic pumps factory-installed, as well as retrofit options.
The left and right dual PTO is now available for order.
Autonomous trucking firm brings on former highway patrol officer for policy development
Self-driving trucking company Kodiak Robotics announced Tuesday that Brett Fabbri, a former California Highway Patrol assistant chief, has joined the company as Head of Law Enforcement Policy and Roadway Safety, effective immediately.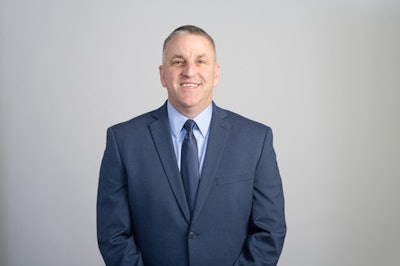 In his role, Fabbri will oversee Kodiak's relationships with law enforcement agencies across the United States and will help ensure Kodiak trucks continue to meet the company's rigorous standards and rules of the road before driverless deployment on the highway. Additionally, Fabbri will work with national law enforcement leaders to adapt trucking regulations and policies.
"Brett's role is vital to Kodiak as we work to launch autonomous truck operations across the United States," said Don Burnette, Founder and CEO, Kodiak Robotics. "Brett brings valuable highway safety insights and experience to the Kodiak team which will be crucial to the commercial launch of self-driving trucks. Working closely with law enforcement is critical to making autonomous driving technology available at scale."
Fabbri spent more than two decades working for the California Highway Patrol (CHP). Most recently, he served as the Assistant Division Commander for the Enforcement and Planning Division at CHP headquarters. In this role, he oversaw the Commercial Vehicle Section and Collision Investigation Unit of CHP, which are responsible for autonomous vehicle technology for heavy-duty, light-duty and passenger vehicles.
"I joined the Kodiak Robotics team because I believe in autonomous trucking's potential to save lives," Fabbri said. "During my 23-year tenure at California Highway Patrol, I oversaw the Commercial Vehicle Section and Collision Investigation Unit where I witnessed the safety hazards on our public roads and the resulting devastation that rippled throughout the nation. Autonomous trucking will make our roads safer for all drivers, and Kodiak Robotics is at the forefront of this innovation."
Prior to his retirement from CHP, Fabbri also chaired the Enforcement and Industry Modernization Committee for the Commercial Vehicle Safety Alliance, which identifies technological advancements that can be leveraged to improve commercial motor vehicle safety. In April 2021, he was appointed to the American Transportation Research Institute as a research advisory committee member.