Trucking news and briefs for Monday, March 14, 2022:
CargoNet reports cargo theft decrease in 2021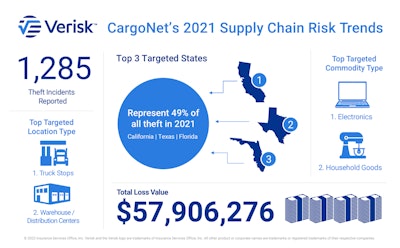 Cargo theft recording firm CargoNet recorded 1,285 supply chain risk events across the United States and Canada in 2021, a 15% decrease in activity year-over-year.
Fifty-five percent of events involved theft of at least one heavy commercial motor vehicle, which includes semi-tractors, semi-trailers, or intermodal chassis or container. Fifty-four percent of events involved theft of cargo or attempted theft of cargo. The average cargo value per cargo theft was $172,340, for an estimated total of $57.90 million in cargo stolen across the United States and Canada in this analysis period.
California remains the top state for reported cargo thefts with CargoNet recording a 13% increase year-over-year. This comes as no surprise to experts, as California continues to struggle with an increase of sophisticated attacks on shipments of computer components across the Bay Area and Southern California.
Texas recorded the second-most activity and saw a year-over-year decrease in theft activity of 15%. Florida rounds out the top three states with a slight increase of 6% and continues to see a shift from Miami-Dade into Broward, Palm Beach, Hillsborough and surrounding counties.
Cargo thieves continued to show a strong preference for electronics shipments, which saw a significant 34% increase year-over-year. Specifically, CargoNet has noted increased targeting of consumer electronics shipments – particularly computers and accessories.
Household items were the second-most stolen commodity but dropped compared to 2020. Household cleaning supplies saw a major decrease from 2020, which CargoNet mostly attributed to the increase in demand for cleaning supplies and household paper products particularly at the start of the pandemic.
In contrast, food and beverage thefts dropped 35%, because supply chain partners reported fewer pilferages of these products.
Entering 2022, CargoNet expects that theft activity will remain elevated.
"We continue to be concerned about the increase in rail thefts and targeting of computer electronics shipments shipping from California, as well as a breakout of full truckload cargo thefts spreading across the eastern half of the United States," the firm said. "CargoNet continues to track these events and work with law enforcement agencies across the country to share information and recover stolen vehicles and goods."
Michigan weight restrictions in place up to Mackinac Bridge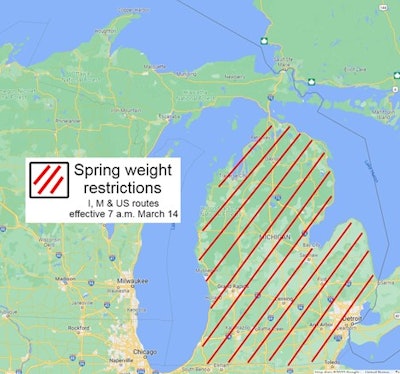 The Michigan Department of Transportation and local agencies are enacting additional annual spring weight restrictions to protect roads. The state instituted some restrictions earlier this month.
Effective 7 a.m. Monday, March 14, weight restrictions will be imposed and enforced on all state trunkline highways from the Michigan/Indiana and Michigan/Ohio state lines north to and including the Mackinac Bridge.
All state trunklines in this area will have weight restrictions imposed and enforced. State routes typically carry M, I, or US designations.
All extended permits will be valid for oversize loads in the weight-restricted area on the restricted routes. Single-trip permits will not be issued for any overweight loads or loads exceeding 14 feet in width, 11 axles and 150 feet in overall length on the restricted routes.
MDOT determines when weight restrictions begin each spring by measuring frost depths along state highways, observing road conditions, and monitoring weather forecasts. Weight restrictions remain in effect until the frost line is deep enough to allow moisture to escape and the roadbeds regain stability.
CVSA seeks nominations for annual safe driver award
The Commercial Vehicle Safety Alliance is accepting nominations for its 2022 International Driver Excellence Award (IDEA).
Each year CVSA recognizes the exceptional careers of professional commercial motor vehicle drivers and their commitment to public safety through its driver excellence award.
"This annual award recognizes drivers who go above and beyond the performance of their duties as a commercial vehicle driver, distinguishing themselves conspicuously and beyond the call of duty through the achievement of safe operation and compliance carried out with evident distinction for an extended period of time," CVSA says.
Drivers nominated for the award must be of personal character beyond reproach with no disqualifying past behavior, as indicated in the IDEA award criteria.
Nominees must have:
At least 25 cumulative years of crash-free driving in a commercial motor vehicle with a clean driving record for the past three years
No felony convictions
No safety-related driving suspensions in the past three years
No driver violations in the past three years, excluding form and manner violations
The IDEA winner will receive:
A check for $2,500
A crystal trophy
Airfare for the winner and one guest to Rapid City, South Dakota, to receive his/her award
Two-night hotel stay in Rapid City
The IDEA winner will be presented with his/her award and receive public recognition at the CVSA Annual Conference and Exhibition in the fall. Announcement of the IDEA winner will be shared nationally through a press release, as well as on the CVSA website and through social media. A feature article on the award winner will run in CVSA's quarterly magazine, "Guardian."
This year, CVSA is accepting nominations and the supporting documentation through an online nomination form. Partial applications will not be considered.
The deadline to complete and submit the online nomination form and supporting documentation is May 20. All nominators will receive notification confirming CVSA's receipt of their nomination application.