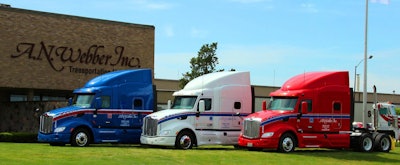 A.N. Webber Logistics, a logistics provider and subsidiary of roughly 140-truck asset-based truckload carrier A.N. Webber, has acquired full-service truckload brokerage Hicks Co. – a force in the west-coast flatbed brokerage market for 40 years.
Hicks Co. will continue to operate under its own name and authority until the end of the year, when systems, operations and branding will be united with A.N. Webber Logistics.
[Related: Mergers and acquisitions changing the landscape of the country's largest carriers]
"What we liked so much about this opportunity is the similarities between our organizations," said A.N. Webber CEO Alan N. Webber. "We're both family-owned and operated with long-standing customer, carrier, and employee relationships. We have a lot of the same objectives."
Although A.N. Webber Logistics primarily operates in the dry van truckload market, A.N. Webber Vice President of Logistics Zach Webber said onboarding Hicks Co.'s flatbed brokerage across the western part of the country – and by combining customers and carrier networks – "we'll be able to benefit from each other's strengths and limit gaps in our network."
Bryan Hicks, co-owner of Queen Creek, Arizona-based Hicks-Co., noted his company had been in talks with A.N. Webber Logistics "for a long time and have the utmost confidence in them to expand on our existing customer and carrier relationships."