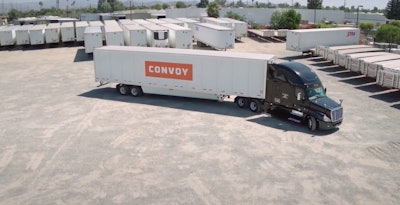 Convoy
Convoy, the digital freight brokerage that promised to disrupt trucking with a tech-forward approach, suddenly collapsed in a $3.8 billion implosion where the dust is still settling. Now, carriers are left wondering if they'll get paid, more brokers have failed left and right, and a big question remains: Was Convoy's trucking tech worth the hype?
In 2015, Convoy burst on the scene helmed by CEO Dan Lewis, who had previously worked in tech as a manager of online shopping experience at Amazon. At the time, big tech "disruptions" were all the rage. Uber and Lyft disrupted the taxi business, AirBnB disrupted hotels, and the $800 billion trucking industry looked next in line for a tech-driven overhaul.
"We build technology to find smarter ways to connect shippers with carriers while solving some of the toughest problems that result in waste in the freight industry," Convoy, fundamentally a broker, still says of itself on its website.
After some real success in helping transform brokerage with technology, Convoy seems to have been most successful at another game -- attracting big investors. The company's pitch proved irresistible to venture capitalists, who ultimately pumped the company up to a towering $3.8 billion valuation. For the owner-operators, small fleets and their drivers who actually hauled the loads, and even the employees that staffed Convoy's office, the entire eight-year ride might boil down to unpaid work.
Kevin Hill, a former freight broker who founded CarrierLists, and, more recently Brush Pass Research, said in hindsight Convoy was "overvalued," or "valued as a tech company" rather than a freight company.
"The valuation exceeded what a traditional C.H. Robinson," for instance, might "be valued at," he added, referencing the longstanding brokerage giant. "At that valuation, there's no margin for error, whether that's Convoy's error or the market's. Any reduction in growth is going to wipe out investors."
Hill said a more realistic valuation for Convoy would sit in the $400 million to $800 million neighborhood, but that the incentives to keep raising money and chasing market share were just too high.
"The strategy of growth at all costs and grabbing market share leaves very little margin for error," he said.
Today, economists view this tactic as what's called a "zero interest rate phenomenon." These types of businesses only really make sense when interest rates are very low, it's easy to raise money, and investors simply want in on high-growth companies.
Think of ride-hailing apps Uber and Lyft. Both fought to become the dominant app, offering consumers cheap fares and convenient app experiences. In many ways, the venture capitalist investors subsidized a generation of would-be cab riders, spending billions on tech and running at unsustainably low margins.
After 14 years and $32 billion in cumulative losses, Uber finally reported a profit in the second quarter of this year. That's after raising prices 92% between 2018 and 2021, according to a business intelligence outfit.
According to Hill, Convoy charted a similar path, forgoing short-term profits to snatch up market share.
In the process, Hill and other boosters of Convoy and freight tech broadly said Convoy brought a lot of talent and attention to the freight brokerage sector. When Uber itself got into freight, it accelerated the pace of tech's best and brightest looking at the supply chain. "Make Freight Sexy Again," one pundit posited about the influx of tech into trucking.
[Related: Disruptive behavior most truckers wouldn't give a demerit]
"It became an arms race for the traditional freight brokerages," said Hill. "They accept and adopt and run with the technology," or get behind. Now, it's the norm among freight brokers to "really be digital freight brokers," in the style of Convoy, said Hill.
As for that core promise of making freight more efficient, Hill said Convoy succeeded to an extent. Automating the load-booking process, quickly surfacing attractive loads for carriers, and helping shippers get the word out painlessly and digitally "pushed the industry forward and made it more efficient," he said.
But just like those Uber rides that were so cheap eight years ago, there's a dark side. Think of the Uber driver, as with owner-operators in trucking a contractor, outside the system of company-employment benefits and unionization. In 2017, Uber paid the FTC a $20 million settlement for misleading drivers about potential earnings with their vehicle financing program.
[Related: Truck Leasing Task Force explores path forward]
Does that sound a bit like trucking? (California's AB 5 contractor law originally targeted independent contractor relationships of all stripes, including those Uber and Lyft drivers, but the big tech firms successfully lobbied for an exemption. Now, AB 5 is mostly trucking's problem.)
Hill described Convoy's fight for market share against other brokers, traditional and digital, as "a race to the bottom" in terms of rates to carriers, and margins to the company, too.
"The more efficient the market is, the lower the price is to the driver," in Convoy's case a network of independent owner-operators and small fleets, said Hill. "It's a two-edged sword."
Any owner-operator knows that freight brokers, and the load boards where they advertise their offers, come with plenty problems that go unabated by big tech.
"Watch the load boards, you've got five or six different brokers trying to compete for one load," one owner-operator noted recently. "I get all the emails directly from shippers," too. "I can watch and see where there's a $200-$1,000 difference in price, depending on the broker" when the offer is posted.
Truckers see it all the time. One load, three different people to call, three different rates. Shippers know if they post on a board themselves, they're going to get a barrage of calls from brokers and carriers both looking to get in on the action.
That chaotic workflow obscures the real amount of freight available, and drags down average posted-rate calculations and leads to errors. If a broker posts a load on five different load boards and actually books it, do they immediately take down all the other listings, every single time?
Furthermore, for independent owner-operators and small fleets, the most stable model for freight procurement involves establishing direct relationships with shippers. Some of those relationships have started through brokered loads, despite all a broker might do contractually to protect himself from a carrier's back solicitation of his customers. Brokers know this, too, of course, and their loyalty to carriers in any given network suffers because of it. Why help a carrier with a better rate, say, if it's just going to mean eventually losing freight to that very carrier?
So how did Convoy transform the industry, make freight "sexy" to big money investors while snatching up market share only to fail at the end?
CEO Dan Lewis blamed it on a "perfect storm."
"In short, we are in the middle of a massive freight recession and a contraction in the capital markets," Lewis wrote in a farewell note to the company. "This combination ultimately crushed our progress at the same time that it was crushing our logical strategic acquirer -- it was the perfect storm."
Leasing thousands of trailers in 2018 probably didn't help. Quick pay options, attractive to carriers, saw Convoy fronting the money on loads hauled, something that put heavy cash demands on the company as rates dropped.
Other brokers clearly face similar challenges. Kyle Fretwell, a researcher with the TruckInfo.net site, noted that this quarter has seen the first contraction in the number of registered brokers in four years, after nearly 10,000 brokerage authorities came into being during the pandemic.
On a LinkedIn post from Lewis apologizing for Convoy's collapse, a former employee noted "the terrible position that last week's closure put hundreds of employees in," saying she felt "blindsided" being terminated without any severance pay. (In the tech industry, big severance payouts remain the norm. Also, Lewis responded that he'd try to help ex-employees find work.)
In October 2021, Samantha Figueroa died after getting struck by a tractor trailer hauling a P&G load booked through Convoy. The truck's driver had previously been placed out of service for driving with a suspended CDL. Figueroa's estate sued Convoy, seeking damages to the fullest extent, to be determined by a court. The text of the complaint offered an encapsulation of the pandemic trucking industry, and posed serious questions for Convoy.
Convoy, Inc. believed that faster shipping and making available to shippers a wider pool of drivers who may or may not have met minimum safety and skills was critical to create the convenience factor to lock shippers and motor carriers looking for loads in to relying on Convoy, Inc.. The Covid-19 pandemic increased the frequency and volume of the supply chain chaos which in turn exacerbated the capacity constraints on shippers like P&G's fulfillment, logistics and delivery sectors. Despite knowledge that injuries and risk of death to the public would likely increase as a result of the decision to offer and/or continue to hire substandard drivers and motor carriers.
One of the most famous mantras of big-tech companies of the last decade was Facebook's old "move fast and break things" motto of sorts. This was encouragement for coders to think outside of the box and be bold when designing new apps and social media tools. For Facebook, now Meta, the strategy worked when it needed to. In trucking, you can't move fast or break things.
After this report on Convoy canceling all loads, which they originally blamed on a glitch in the app, Overdrive's inbox filled with half a dozen or so messages from owner-operators like Cheree Wilson, wondering if they'll ever be paid for the loads they hauled.
Wilson runs First Family Trucking Services out of Charlotte, North Carolina, and had been hauling loads through Convoy for the last two years. Her one-truck operation was under a Convoy load when Dan Lewis sent his farewell email to employees and Convoy canceled all its loads.
"I really liked working with them, as far as the bids itself," she said. "It was real easy and quick responses. The loads would pop up and they'd send you a text blast to let you know there was available freight."
She liked Convoy's quick-pay option, too, shrinking down her billing cycle from 30 days to just two.
But in the end, when Convoy folded, "I didn't even receive an email," Wilson said. She had to learn about her go-to broker's demise through media reports online, as did other owners.
Shortly after the announcement of the company's failure, Convoy's surety bond was flagged in the Federal Motor Carrier Safety Administration's Licensing and Insurance public portal with a pending-cancelation notice.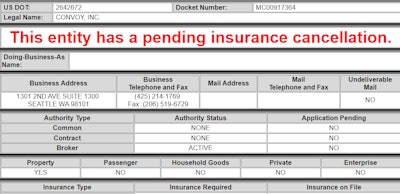 In some cases, such a notice can result from a bonding company's receipt of truckers' claims on a bond, after which they're required to give FMCSA 30 days' notice before cancelation. The bond provider did not respond to questions about whether the impending cancelation was voluntary or not. No Convoy rep could be reached for comment.
When Transplus Freight System Inc. of Hernando, Mississippi, went bankrupt in June, as many as 60 carriers went unpaid. Convoy may yet sell some of its tech assets to another firm, which could result in a pot of cash to pay out to carriers, but that's two "ifs" in a row. Any carriers hung out to dry, of course, face the same "perfect storm" of a freight recession combined with rising interest rates that sunk Convoy, only with their own money in the business, not some VC's.
As for owner-operator Wilson, she hopes that "the smoke is still settling," she said. "I just try to be an understanding person. They probably had their priorities.... But I was hoping they could have put someone on as far as the payables and making sure accounts were settled." She's still hopeful today for payment, but frankly isn't expecting anything.
For now, Convoy's tech hype is worth whatever some buyer might pay for it, and nothing more. For most carriers Overdrive spoke to, it's looking like a writeoff.
[Related: Trucking Law: What are your rights when a broker doesn't pay?]