Trucking news and briefs for Friday, May 12, 2023:
TA shareholders approve BP acquisition
TravelCenters of America announced Wednesday that TA stockholders voted to approve TA's acquisition by BP p.l.c.
Under the terms of the agreement, BP's wholly-owned subsidiary will acquire all of the outstanding shares of TA common stock for $86 per share in cash. The transaction price represents an 84% premium to TA's average trading price over the 30 days ending Feb. 15, 2023, the date the BP merger agreement was signed.
TA stockholders approved the deal with more than 72% of the shares outstanding and 93% of the total shares voted in favor of the merger. The final voting results of TA's special meeting will be reported in a Form 8-K with the U.S. Securities and Exchange Commission.
The closing of the transaction remains subject to customary closing conditions and is expected to occur on May 15.
Upon completion of the transaction, shares of TA's common stock will be canceled and will no longer trade on the Nasdaq, and TA will become a wholly-owned indirect subsidiary of BP.
[Related: TravelCenters of America puts BP merger drama to bed]
$150 million cargo theft ring busted in California
The California Highway Patrol's Organized Retail Crime Task Force (ORCTF), along with CHP investigators assigned to the Cargo Theft Interdiction Program, recently conducted a statewide enforcement operation targeting a criminal operation believed to be responsible for over $150 million in stolen merchandise.
CHP's operation led to the arrest of 40 suspects, the recovery of more than $50 million in stolen merchandise, the recovery of 20 stolen cargo trailers, and the seizure of several vehicles, multiple firearms, including ghost guns, over $550,000, and 13 gold bars.
"This team has worked tirelessly to unravel this complex case," said CHP Commissioner Sean Duryee. "I continue to be impressed by the dedication and commitment put forth daily by our officers and investigators. Their efforts help make California a safer place to live and work."
The case originated in March 2022 and resulted in CHP conducting more than 50 targeted operations involving multiple surveillance teams, undercover officers, arrests, and the authoring and serving of several search warrants.
The suspects are believed to be responsible for the theft of more than 200 cargo loads valued at over $150 million. Major retailers are among the victims of the thefts investigated. The suspects involved are facing several felony charges involving conspiracy to commit grand theft, grand theft of cargo, vehicle theft, and identity theft.
California Gov. Gavin Newsom continues to prioritize combating organized retail theft, as he has invested more than $241.4 million in the last year to bolster law enforcement efforts to address organized retail theft and other crimes, and support affected businesses.
PGT Trucking breaks ground on new Laredo logistics center
PGT Trucking (CCJ Top 250, No. 93) broke ground this week to mark the start of the construction for its new logistics center in Laredo, Texas.
Leading the groundbreaking ceremony at the 7.73-acre site within the Pinnacle Industry Center was Gloria Solis, Laredo Chamber of Commerce Board Member. PGT Trucking company representatives, local government officials and business leaders were in attendance.
"On behalf of PGT Trucking, and our partnerships with Park Avenue Construction, Kraus Development and the Laredo Chamber of Commerce, we are excited for our expansion in Laredo, and support the continued development of this city and the surrounding areas," said Pat Gallagher, PGT Trucking CEO.
With an expected completion date of Q1 2024, the custom facility will include a full-service operations center, modern driver amenities and a truck maintenance shop, providing a regional base for more than 70 local drivers.
PGT Trucking has successfully operated in the Southwest region for more than 25 years, opening its first terminal in Laredo in 1995. The company moves more than 4,000 cross-border loads annually.
CPC Logistics driver inducted into NPTC Hall of Fame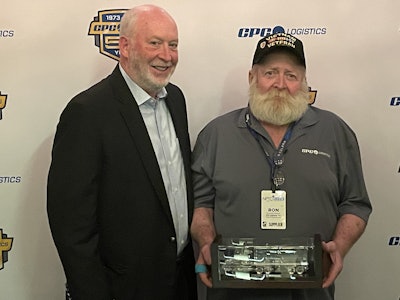 CPC Logistics truck driver Ron Mahar, who is assigned to drive for Walgreens in Houston, Texas, has been inducted into the National Private Truck Council (NPTC) Driver Hall of Fame.
Each year, the NPTC Driver Hall of Fame inducts only four drivers from across the United States who have demonstrated a lifetime of excellence on the highway, in their company and in their community. To qualify, drivers must have a minimum of 3 million miles, 20 years, or 50,000 hours of driving; no preventable accidents; and be regularly employed or leased full-time at an NPTC member company and actively driving at the time of induction.
"It's nice to be recognized for doing my job," Mahar said. "My philosophy has always been to do the best job I can do and with integrity. I try my best to do it right even when no one is watching."
CPC Division Manager Richard Jones has worked with Mahar for more than 15 years. "Ron is the ultimate professional," Jones said. "He is very good at what he does – he has even taught me a thing or two – and he is always willing to share his knowledge with the younger generation of drivers coming into the industry."
Mahar has been a professional driver since 1972 and employed with CPC since 1989. He appreciates the work-life balance, stability and flexibility CPC Logistics offers its drivers.
Since the program began in 1987, NPTC has honored 140 drivers from a broad spectrum of the nation's top private truck fleets. Including Mahar, 12 truck drivers from CPC Logistics have been inducted into the Hall of Fame. CPC's ranks also include 104 NPTC Driver All-Stars and more than 155 drivers who have driven 1 million miles or more without a preventable accident.
Mahar was inducted into the Hall of Fame at NPTC's Annual Education Management Conference & Exhibition May 7-9, 2023, in Orlando, Florida.