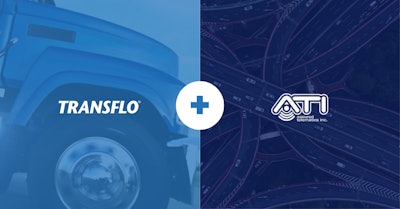 Transflo
Supply chain management and automation software company Transflo and fleet management solutions provider Assured Telematics Inc. (ATI) are set to merge in a deal that aims to help fleet customers increase efficiency, improve cash flow and reduce costs.
With the merger, Transflo will incorporate ATI's solutions into its offerings to create a densely connected technology ecosystem.
"We are excited to integrate the extensive capabilities of ATI into the Transflo ecosystem," said Transflo CEO Renee Krug. "Combining ATI's expertise in developing differentiated FreightTech solutions will enable us to deliver even more value to our customers, making it easier for them to manage their fleets and streamline their operations."
ATI provides telematics solutions for the trucking industry with a comprehensive suite of systems that includes satellite communications, GPS technologies and cost-effective passive trip-recording solutions. As a GPS fleet management specialist, ATI offers custom and affordable systems that are tailored to meet the unique needs of companies of all sizes. With a focus on innovation, ATI provides advanced telematics and analytics solutions, including comprehensive data insight modules for customers ranging from large truckload fleets, government fleets, utility and construction companies.
Those customers will now have access to Transflo's Workflow AI technology, digital fuel solutions and Transflo Mobile+ app. Transflo's customer-focused mobile and cloud-based technologies manage over 208 million mobile communications each year and digitize more than 800 million shipping documents annually, representing roughly $115 billion in freight bills.
"We are excited to join forces with Transflo. The synergies created by our combined strengths will enable us to provide best-in-class solutions that our customers expect from us," said ATI President Frank Pellitta. "Together, we will be able to offer a comprehensive suite of solutions that will help our customers save money, reduce risk and improve operational efficiency."
Pellitta will continue to lead ATI as president and will also lead telematics for the combined company with the added title of chief telematics officer.