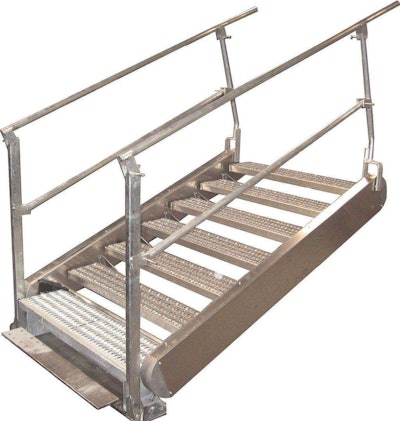 Benko Products' Green Access & Fall Protection Railcar and Tank Truck Safety Bridges are available in custom widths and lengths to meet application requirements. Standard Green Safety Bridges offer a nonskid grip strut walking surface that is 24 inches wide and allows safe access in applications where the working range is within 15 inches above or below the platform height.
Benko can extend these widths an extra 12 inches wide or more to accommodate larger material loads and increase operator comfort. Both fixed- and adjustable-reach safety bridges are available, and most accommodate common vehicles up to 10 feet in height. Benko also can customize these lengths to suit 12-foot-tall tank trucks and isotainers, promoting stability and flexibility for applications where operators regularly must access vehicles of varying heights.
Green Safety Bridges can be manufactured from carbon steel, aluminum, fiberglass or a combination of each. Multiple finishes also are available, including standard safety yellow enamel finish, hot-dipped galvanized finish and uncoated or anodizing finish for aluminum models.
Additional features include:
• Folding tubular handrails with midrails for increased operator safety and OSHA compliance;
• Neoprene bumpers to help eliminate damage to vehicles being serviced;
• Axles with self-aligning permanently lubed bearings; and
• Tension springs enclosed within side panels to help prevent corrosion and pinch points.
Optional features include:
• Adjustable chain stops for access equipment that must be self-supporting;
• Brackets for side-mounting to an existing structure;
• Pivot mounts and slide-track with slide-track carriages to accommodate misspotting of rail cars and trucks; and
• Safety enclosures designed to attach easily to access equipment.