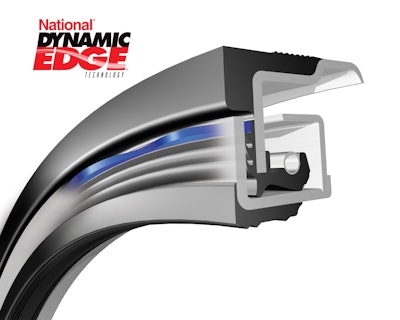 Federal-Mogul's National heavy-duty oil seal technology is designed to offer maximum contaminant exclusion for tough wheel-end applications. The "Red" 37 Series wheel seal features Federal-Mogul's National Dynamic Edge technology engineered to deflect contaminants from the seal and other wheel-end components; the design consists of an integral sinusoidal wave that helps sweep and propel environmental contaminants away from the seal face.
The seal also features a labyrinth design of four floating points of contact that help lock out dirt and moisture and help facilitate maximum service life. The spring-loaded sealing lip, manufactured from abrasion-resistant nitrile, is designed to deliver positive sealing with minimal shaft interference. The seal's unitized construction provides increased structural integrity, and an inside/outside diameter design, which features Federal-Mogul's Sure-Lock technology, helps resist contamination and prevent bore and shaft leaks.
The Abex MQ transit block is designed to provide quieter brake operation, added stopping power and extended lining for transit vehicles. The transit block is engineered to reduce noise and help ensure a stable, reliable and safe braking system while delivering premium wear characteristics in both low- and high-floor bus applications.