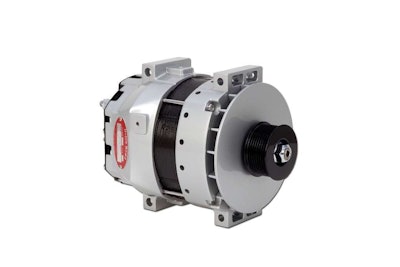 Remy's high-output Delco Remy 55SI alternator has a brushless design and is rated at 420 amps at 12V and up to 275 amps at 24V.
The 12V 420 amp model is suited for the aftermarket on fire and rescue trucks due to its compact design and high-output performance at engine idle, and also is available for utility and work trucks in order to power inverters and plug-in power tools, lights and other electrical equipment; it also supports the electrical load requirements of long-haul trucks equipped with multiple-battery auxiliary power units.
The 24V models rated at 250 and 275 amps are designed for the high electrical load demand of transit buses, mining equipment and other off-highway vehicles.