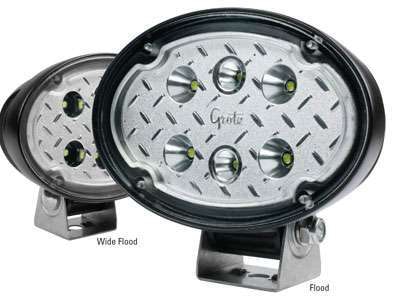 Grote Industries' Oval 1200 and 2500 lumen work lamps, part of the company's LED Trilliant line for the agriculture market, use LED circuitry and an advanced package design and are available with flood and wide-flood lighting patterns and both AMP Superseal and Deutsch connectors. The lamps' 6-LED package is 5.9 inches wide by 5.12 inches high (including mounting hardware) by 2.71 inches deep.
Trilliant Oval lights are designed for flexibility for both OEM designers and end-users; their small size enables equipment lighting solutions in places where larger lamps are precluded. Low-noise electronics help calibrate the color temperature of the LEDs to ensure optimum lighting performance that results in white light that mimics daylight to help reduce eye fatigue and operator stress. Mounting flexibility allows the lamps to be located in specific areas to help minimize employee accidents from climbing on moving vehicles such as garbage trucks or stepping off vehicles onto unlit uneven terrain.
Both lights feature encapsulant potting material for added circuit board protection against moisture and corrosion, and their leak-proof sealed design helps stand up to scratches, pressure washing and harsh weather, while their die-cast aluminum housings protect them from shock and workplace abuse.