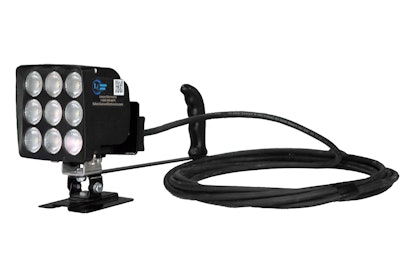 Larson Electronics' PML-90LED-SW 90 Watt LED Spotlight produces 8,100 lumens of intense bright light and offers the versatility of 9-50 volts DC operation from a compact spotlight profile. The permanent-mount spotlight is equipped with a rugged polycarbonate control handle and tension hinges designed to allow the unit to be adjusted and set into position easily.
The light beam in spot configuration is about 2,100 feet long by 140 feet wide, while an optional flood configuration covers an area about 1,200 feet long by 450 feet wide. The mounting base has four corner bolt holes to help keep the spotlight secured to the mounting surface under extreme vibration and offroad conditions.
Larson also offers its Heavy Duty 300 Watt LED Light that features more than 29,000 lumens of light output, an inline transformer and rugged waterproof construction. For more information, go to www.magnalight.com.