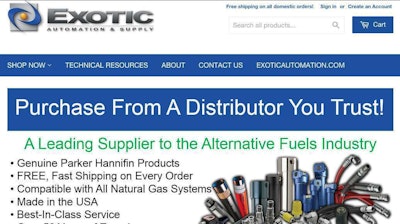 Parker Hannifin distributor Exotic Automation & Supply announced at the ACT Expo in Dallas Wednesday the launch of an e-commerce site for fleets looking for OEM replacement CNG, LPG & LNG maintenance parts.
Sales director Henry Testa says the new website provides owners of fleets ranging from 1 to 100,000 trucks with direct access to high performance products for their vehicle maintenance needs. Exotic Automation offers free shipping, extensive stock, best-in-class service and genuine high-quality Parker Hannifin OEM products.
Parker Hannifin replacement filter elements for FFC112 & FFC113 housings, disposable LPG filters and Fleetguard spin-on filters are offered on the website as of today. Additional products will be available soon, Testa says.
The website also provides technical resources for fleet owners, including data sheets and instructional manuals for regular vehicle maintenance.