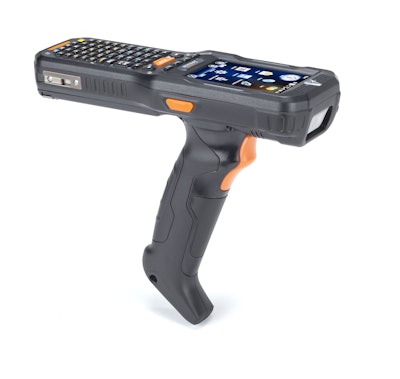 Janam Technologies, a provider of rugged mobile computers that scan barcodes and communicate wirelessly, has launched its XG3 rugged mobile computer. Designed to excel in the most challenging environments, the XG3 is Janam's next-generation, gun-shaped rugged mobile computer.
Janam says the XG3 is the lightest industrial-grade device in its class with a sleek design and performance specs built to increase productivity, streamline operations and improve the bottom line.
The XG3 survives multiple six-foot drops to concrete on all sides across a full spectrum of temperatures and is sealed to IP65 standards for use in wet and dirty environments. It also delivers battery life that lasts throughout the workday with a standard 5200mAh hot-swappable Li-ion battery for uninterrupted operation.
Other features include a 3.5-inch color display with hardened glass, ARM Cortex-A8 CPU @1GHz and choice of keypads.
"The XG3 is built with the user in mind. Incomparably light and ergonomically designed to fit comfortably in the hand, this is the ideal device for scan-intensive, extended shift use in the harshest environments," said Harry B Lerner, chief executive officer of Janam. "Unlike our competitors, Janam doesn't force customers to choose between price and performance. The XG3 meets the most demanding requirements at an incredibly competitive price point."
The XG3 offers the latest in barcode scanning technology with a choice between Honeywell's Adaptus imaging technology and Motorola's SE965 extended-range 1D laser scan engine. It also offers 802.11a/b/g/n Wi-Fi and support for Voice Over IP (VoIP) for reliable voice and data across manufacturing facilities, distribution centers, plant floors, loading docks and other harsh environments.
XG3 features:
»  Weighs under 22 ounces
»  Microsoft Windows Embedded Handheld 6.5 operating system
»  ARM Cortex-A8 processor @1GHz
»  High-performance barcode scanning
»  Brilliant 3.5-inch VGA TFT display with hardened glass
»  512MB/1GB with expansion capability
»  802.11a/b/g/n Wi-Fi and Bluetooth
»  Motion sensing accelerometer