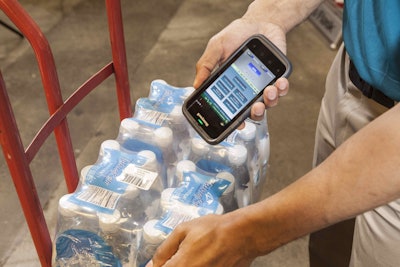 Honeywell has a new mobile computer, the Dolphin CT50, designed for the frontline worker in transport and logistics, field service, direct store delivery, and warehouse environments.
Featuring an all-touch interface, Honeywell says the Dolphin CT50 is ideal for scan-intensive applications and for mission-critical activities that improve route efficiency, ensure more accurate delivery windows, heighten customer service with real-time scheduling, and more.
Key Facts
Users can select either Windows Embedded 8.1 Handheld or Android 4.4 KitKat operating systems with an upgrade path to the Windows 10 and Android 6.0 Marshmallow platforms. The operating system versatility offers compatibility with other devices such as tablets and personal computers.
The Dolphin CT50 is built on the Qualcomm Snapdragon 800 series processor. The architecture gives mobile workers the ability to collect and process data while using multiple applications.
Includes Wi-Fi and 4G/LTE connectivity for business-critical applications and rich multimedia.
Features imaging hardware and decoding software for fast and accurate omnichannel bar-code reading.
Honeywell will offer accessories to support scan-intensive use cases such as a scan handle, docking systems and vehicle cradles for specialized activities such as mobile printing, payment acceptance and vehicle telemetry.
The Dolphin CT50 started shipping in August 2015.