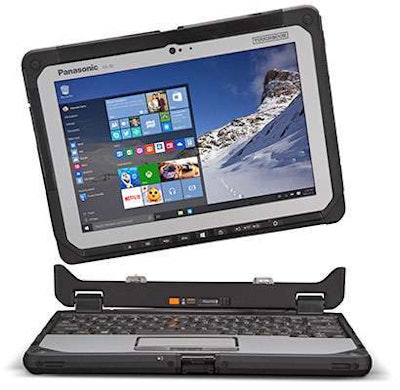 Panasonic announced its first fully rugged detachable laptop. The Toughbook 20 combines the features of a laptop and tablet as a new device the company says is ideal for field workers that need a highly mobile computing platform and the ability to reliably capture large amounts of data.
The Toughbook 20 is built for challenging environments such as field services, utilities, oil and gas, transportation and logistics, healthcare, insurance, public safety and defense.
"Our customers are constantly pushing the boundaries of how and where our devices are used," said Jan Ruderman, vice president, Business Mobility Group, Panasonic System Communications Company of North America. "The Toughbook 20 delivers what many of our customers are looking for – a single rugged device that delivers all the advantages of a fully functioning laptop and tablet."
The Toughbook 20 features a 6th Generation Intel Core vPro processor, 128GB SSD, 8GB RAM and choice of Windows 10 Pro or Windows 7 Professional. The detachable laptop has a 10.1" sunlight-viewable 800 nit IPS display with gloved multi touch capabilities, a waterproof stylus pen and a backlit keyboard that is 16 percent larger than the Toughbook 19. The standard 2MP webcam and optional 8MP rear camera expand communications options for field workers. The device's optional bridge battery allows for continuous operation and the optional second battery (located in keyboard dock) doubles battery life and can also be swapped between the tablet and keyboard dock.
Besides being used as a traditional laptop, the tablet can be detached and used by itself or flipped 180-degrees to show content in presentation mode. The convertible mode allows users to see the display with the keyboard attached and ready when it is needed. Using the built-in handle, the device can operate in carry mode or hanging on a wall, while vehicle mode provides full functionality and operation of the device when on the move.
The device features a magnesium alloy case, fanless design, locking port covers, raised bezel, Solid State Drive (SSD) heater and a built-in handle for ease of use, which also serves as a kickstand for desktop stability and enables use while hung.
"While relatively easy to design from a consumer perspective, the stresses a detachable laptop will endure in the environments in which our customers operate created serious design challenges. A significant amount of engineering went into this device to ensure it would deliver the reliability the Toughbook brand is known for," continued Ruderman.
Optional features include a true serial port, magstripe reader, 1D/2D capable barcode reader, dedicated GPS or 4G LTE multi carrier modem. The devices weighs 3.9 pounds (2.1 lbs. for the tablet only).
The Toughbook 20 is supported by a broad selection of accessories, including a desktop dock, vehicle docks, rotating hand strap, 4-bay battery charger, vehicle charger, carrying cases and replacement items such as waterproof stylus pens for digitizers, tethers, protective screen films, batteries and AC adapters.
Pricing and Availability
The Panasonic Toughbook 20 will be available in February 2016 from authorized Panasonic resellers at an estimated street price starting around $3,099, and will include a standard three-year limited warranty.
Besides offering the Toughbook and Toughpad brands, Panasonic says it helps customers reduce the complexity of deploying and managing mobility projects through its  ProServices suite of engineering consultations, premier disc imaging and device deployment services, training, mobility applications and break/fix depot support.